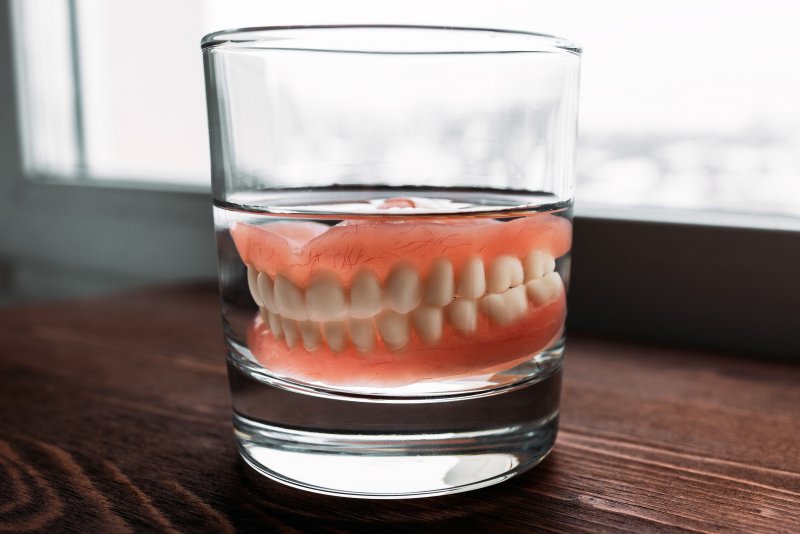 When you start with dentures, you may be tempted to treat them exactly like natural teeth. After all, aren't they meant to replace your old ones? That said, you might think it's all right to just sleep with them in your mouth instead of taking them out beforehand. However, that really isn't a good idea — the better option is soaking dentures overnight. As for why that's the case, your local dentist knows the answer: Here's a summary of three key reasons your false teeth need a nightly soak.
Most Dentures Have Pores
As it turns out, the acrylic used in most dentures houses bacteria. Being porous, the material has many tiny holes that can act as shelters for harmful mouth microbes. In fact, entire colonies of these bacteria can hide in it!
When you add the bacterial population in all your dentures' pores, you find that there's actually a lot of bacteria in your false teeth. Not cleaning the pores with soaks, therefore, will increase your risk for gum disease.
Bacteria Increases as We Age
This gum disease risk increases when you remember that denture wearers are often elderly. You see, the population of mouth bacteria constantly grows as people age. That being the case, denture wearers are more likely to have greater amounts of harmful oral microbes than non-wearers.
This bacterial growth is due to several factors. Some of it stems from the fact that humans naturally produce less saliva as they grow older. Meanwhile, certain medications can reduce saliva production as well. Dentures themselves can even contribute to higher quantities of mouth bacteria.
Your Gums Need Rest
While your jawbone supports natural teeth, dentures are supported solely by your gums. Unfortunately, gums just aren't up to the task of bearing pearly whites on their own.
Without rest, your gums will be sore from constantly supporting your dentures. By soaking your false teeth overnight, though, you'd be giving them the tissue some much-needed rest. Of course, if your gums are still sore after a night of resting, it may be time to consider an alternative like implant dentures.
As great as dentures are as replacement teeth, they must be taken out and soaked. Otherwise, you risk dealing with the complications listed above!
About the Practice
Esparza Family Dentistry is based in Virginia Beach, VA. As led by Dr. Sarah Esparza, their team dedicates itself to its patients and community. The staff goes above and beyond to ensure each client receives treatment that meets their smile needs. These services include preventive, cosmetic, and restorative dentistry, not to mention emergency dental procedures. For more information or to book an appointment, visit their website or call by phone at (864)-407-4455.