Dentures – Virginia Beach, VA
Quickly Regain Your Complete, Confident Smile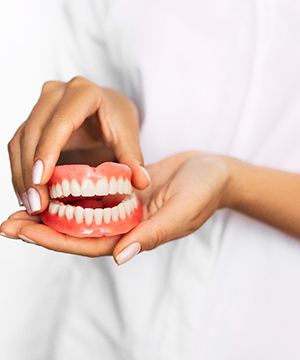 Missing some or all your teeth impacts a lot more than just the appearance of your smile. Tooth loss is a serious issue that can take a huge bite out of your quality of life. At Esparza Family Dentistry, we want to help you quickly regain your complete, confident smile with dentures in Virginia Beach! These classic restorations can help you get back to chewing, speaking, and smiling confidently, and thanks to modern dental technology and materials, they're now more lifelike and comfortable than ever! Read on to learn more about dentures and give us a call today to schedule your consultation!
Types of Dentures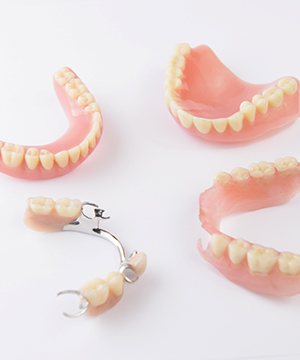 All of our dentures are made of natural-looking materials like porcelain and gum-colored acrylic for durable and beautiful results. Depending on the extent of your tooth loss and your personal preferences, you may benefit from:
Partials
Partial dentures (or partials) are a great choice for patients who are missing several teeth. Much like a puzzle piece, partials fit between and around your remaining healthy teeth. Small, discreet brackets wrap around your natural tooth structure to secure your new pearly whites.
Full Dentures
If you're missing your entire top or bottom row of teeth (or both), full dentures can help. These replacement teeth are set into a gum-colored base that's precisely crafted for your unique smile. This close fit creates a strong natural suction that holds the denture firmly in place.
All-On-4 Implant Dentures
Alternatively, you can anchor your denture directly into your jawbone with dental implants. This unique placement takes more time, but provide unmatched function, comfort, and longevity. With All-on-4 implant dentures, you can replace an entire arch of missing teeth with just four strategically placed dental implants, often in a single day!
Who's a Good Candidate for Dentures?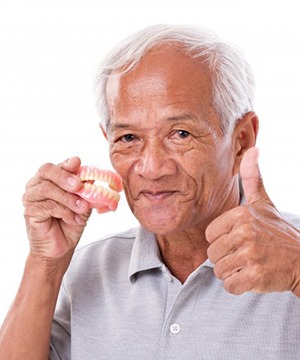 Dentures are a great option for those suffering moderate to severe tooth loss. To be considered a good candidate, you'll need to be in good oral health first. Once we've addressed any tooth decay, gum disease, or teeth that need to be extracted, we can move on to fitting you with dentures.
On the other hand, All-on-4 implant dentures require that you also be in good health and have adequate jawbone density. During your consultation, we'll review your medical history and inspect your smile. Then, we'll review all your options in detail, as well as our recommendation, before helping you choose the best tooth replacement option for you.
What Are the Benefits of Dentures?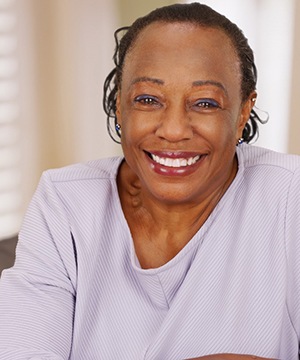 It's easy to see why dentures are still one of the most common methods for replacing missing teeth. They offer important benefits like:
Fast results that can last for many years to come
Natural-looking appearance thanks to high-quality materials
Restored ability to eat a full, varied diet once again
Youthful, filled-out facial appearance
A cost-effective solution for tooth loss
Dentures FAQs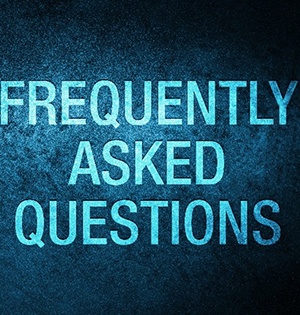 If you've suffered significant tooth loss, dentures in Virginia Beach are an effective, convenient option to rehabilitate your smile. Although you're excited to replace your missing teeth, we know you have a few concerns before you're ready to commit to them. Dr. Esparza will explain everything during your initial consultation. To help ease your apprehensions, here are the answers to a few of the most common questions patients ask us about dentures.
Why should I choose Esparza Family Dentistry for my dentures?
Dr. Esparza earned her dental degree from the University of Maryland Dental School in Baltimore. She has over 20 years of experience helping her patients achieve their best smiles possible. She remains current with the latest advancements in dentistry to treat complex issues, like tooth loss. She'll rebuild your smile using a solution that closely mimics your natural teeth.
Should I sleep in my dentures?
Getting caught without your dentures in your mouth can be embarrassing, so you might want to sleep in them; however, Dr. Esparza advises against it. Your gums need time to rest after supporting your dentures throughout the day. It's best to remove them at night to give your gums a break. When they aren't in your mouth, store them in a denture cleaning solution or room temperature water to prevent them from drying out. Your dentures must be kept moist or they can warp, which may cause them to fit poorly.
How much do dentures cost?
There isn't a set fee for dentures because their price is based on several factors, like the number of teeth you're replacing and your dental insurance. Every policy differs, but many dental plans can be used to help offset the cost of your new smile. A member of our team will work on your behalf with your insurance carrier to lower the amount you need to pay. If there's any remaining balance, we'll discuss your payment options to keep your dentures within your budget, like using third-party financing.
What do I do if my dentures are slipping?
Try a couple of different adhesives to see if you can get your dentures to fit snuggly. If that doesn't solve the problem, it's time to contact our office. Over time, your gum tissues and jawbone will change shape, causing your dentures to slip. If the issue isn't resolved, it can cause irritation, which can lead to sores and infection. Dr. Esparza can reline your dentures to improve their fit; however, if they are over 7 years old, they may need to be replaced. If you're interested in a permanent solution that eliminates slipping and irritation, ask Dr. Esparza about the benefits of supporting your denture with dental implants.
How can I get started?
If you're ready to enjoy a complete, beautiful smile again, contact our office today to schedule your consultation. Dr. Esparza will create a customized treatment plan to replace your missing teeth using a denture that closely replicates your natural smile.