Missing All Teeth – Virginia Beach, VA
Rebuild Your Smile with All-On-4
Complete tooth loss significantly complicates your daily life while also devastating your self-esteem. Traditional dentures restore your confidence and your quality of life to some degree, but they never truly look or feel natural. What if you could replace your missing teeth with a solution that closely mimics your natural smile? Now you can with All-On-4 dentures in Virginia Beach. Dr. Sarah Esparza will secure your denture to your jawbone using only 4 implant posts.
How Do All-On-4 Implants Work?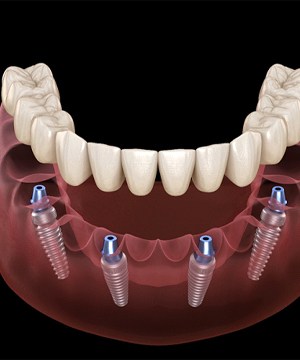 Conventional dentures are held to your gum tissue using suction or an adhesive. Although several improvements have been made to them over the years, they will never match your natural biting force. To stabilize a denture, dental implants can be used. Traditionally, 8 to 12 implant posts are surgically placed into the jawbone to eliminate slipping and irritation. Although this method is effective, many patients prefer a simpler approach.
All-On-4 only uses 4 implant posts to secure the denture. Although fewer posts are used, you will still enjoy the same benefits and stability of dental implants. Best of all, you can often complete your smile sooner than when using the traditional method because you may not need bone grafting.
Am I a Candidate for All-On-4 Implants?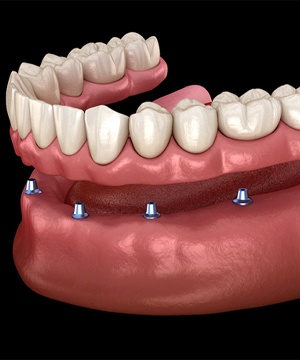 If traditional dentures did not give you the results you wanted, you may be able to replace an entire arch of missing teeth using All-On-4. The treatment is recommended for patients who have good oral and overall health. It is also used for people who have lost density in their jaw but do not want to undergo bone grafting.
Dr. Esparza performs a comprehensive consultation to assess your oral health and discuss your medical history to see if dental implants are right for you. She creates the customized treatment plan you need to rebuild your smile.
What are the Benefits of All-On-4 Implants?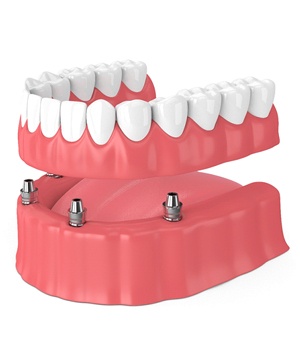 4 dental implant posts are strategically placed into your jawbone to anchor your denture while also mimicking the roots of your teeth. This allows you to enjoy several benefits that are not possible using a traditional denture, including:
Over a 95% 10-year success rate.
All-ceramic material makes your new smile look natural.
Regain as much as 70% of your biting force.
Stops slipping and irritation.
Preserves your jawbone's density.
Supports your facial structures.
Can prevent the need for bone grafting.
Replace your teeth in one day.
Long-term, cost-effective solution that can last for decades.
All-On-4 VS Traditional Dental Implants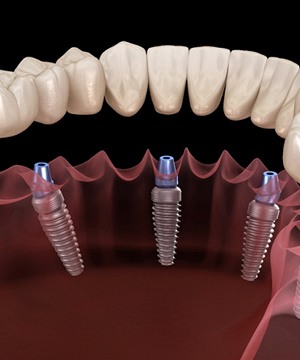 Traditional dental implants require you to undergo a lengthy, multi-phased treatment process. All-On-4 is different because you can often complete your smile in just one day. The implant posts are placed into the thickest parts of your jaw. This can prevent the need for bone grafting to save you time on your journey to a complete smile.
In addition, you can often be fitted with a temporary denture the same day as your placement surgery instead of having to wait several months for your jawbone to heal like that of standard dental implants.
Schedule a Consultation Today!
You can overcome the challenges of tooth loss with All-On-4. Contact our office today to see if dental implants are right for you.
Explore More Services
Preventive Dentistry Check-Ups & Cleanings Cosmetic DentistryRestorative Dentistry TMJ/Bruxism Therapy Emergency DentistrySee All Our Services