Preventive Dentistry in Viriginia Beach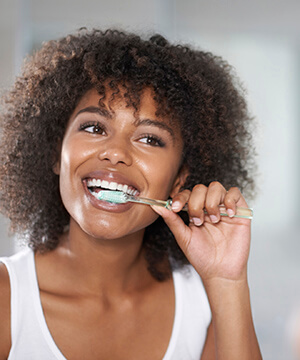 Because we're all vulnerable to the same kinds of dental problems, Dr. Esparza has made preventive dentistry a foundational aspect of her practice. Besides helping patients treat existing gum disease and tooth decay, we're also committed to preventing these problems through routine cleanings and exams. Routine care is just part of what preventive dentistry is all about. With our rich variety of preventive services, we help patients in other ways as well.
Dental Check-Ups & Teeth Cleanings
Brushing and flossing are vital for enjoying good oral health. But even the best homecare routine benefits from extra help. That's why we recommend visiting Esparza Family Dentistry every six months for routine care. Click here to learn more.
Children's Dentistry
Are you looking for a practice to help your entire family? Our Virginia Beach office is happy to serve young patients in addition to adults. With routine cleanings, we help your son or daughter learn about the importance of a healthy smile, and with a service like dental sealants, we provide them with years of advanced protection from decay.
Learn More About Children's Dentistry
Periodontal Therapy
Periodontal disease is one of the most common oral health problems. According to the CDC, a majority of U.S. adults have some form of it. If left untreated, it leads to a host of serious problems including tooth loss. At Esparza Family Dentistry, we want to help you reclaim your good oral health through personalized periodontal therapy.
Digital X-Rays
Dr. Esparza uses digital radiography to create a clearer, more detailed picture of your oral health needs. After all, a visual exam will only tell us so much about your smile. With digital X-rays, we see parts of your mouth it would be impossible to see otherwise. As a result, we create a more detailed plan for helping you reclaim your good oral health.
Oral Cancer Screenings
We believe routine oral cancer screenings are important for everyone, even those who avoid tobacco or excessive alcohol consumption. In too many cases, oral cancer isn't diagnosed until it's already well-advanced. By this time, successfully treating it may be impossible. By routinely screening patients for cancer, our goal is to diagnose it early so they have a better chance of successfully treating it.
Athletic Sportsguards
Athletes who play a contact sport aren't the only ones who benefit from wearing a custom-made sportsguard. Athletes of all stripes benefit from wearing one. In addition to protecting your teeth and tongue, sportsguards have been shown to reduce the severity of concussions. To learn more about the importance of wearing a sportsguard, don't hesitate to contact our office.
TMJ & Bruxism Therapy
Do you struggle with routine headaches or earaches? Does your jaw click or feel stiff when you open it? Then you may be struggling with bruxism or TMJ dysfunction. These neuromuscular problems seriously harm your smile if they're not treated with an oral appliance from our office. Click here to learn more about what oral appliance therapy is and how it can help.
Emergency Dentistry
Are you in the middle of a dental emergency? Don't hesitate to contact our Virginia Beach office for help. We're dedicated to providing patients care for their urgent dental needs. Learn more about our emergency dentistry services.
Explore More Services
Check-Ups & Cleanings Cosmetic Dentistry Restorative DentistryDental Implants TMJ/Bruxism Therapy Emergency DentistrySee All Our Services