Transformative Porcelain Veneers in Virginia Beach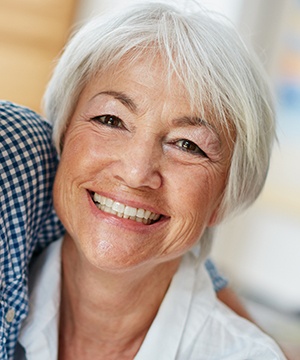 Porcelain veneers are one of the most popular options in cosmetic dentistry, and they are available from Dr. Sarah Esparza at Esparza Family Dentistry! These thin coverings made of dental porcelain are used to enhance the size, shape, and color of the teeth that show when you smile. Veneers are placed in just two visits to our office and can last for years with proper upkeep.
What Do Veneers Correct?
Dental veneers can correct any number of cosmetic issues all at once. They work by simply covering up the problems with a thin layer of beautiful dental porcelain. Some of the most common flaws that can be corrected with veneers include:
Chipped or cracked teeth
Teeth with irregular surfaces (pitted and grooved or chalky looking)
Pointy incisors or teeth that look short or stubby
Minor gaps between teeth
Off center or slightly misaligned teeth
Severely stained teeth that have not responded to professional teeth whitening
How Are Veneers Placed?
If veneers are the right option for enhancing your smile, we will put together a treatment plan that takes place over the course of two visits to our office. In the first appointment, your dentist will prepare the teeth by removing a small portion of enamel from the front surface. This step is necessary to make room for the new veneers. We'll then take a mold of your prepared teeth, cover them up with temporary restorations, and schedule a follow-up appointment one to two weeks later.
In the time between visits, your permanent veneers are crafted by an expert in our partner lab. Be careful when eating with the temporary veneers -- it's a good idea to avoid biting directly into chewy or crunchy foods.
When you return to our office, we will carefully remove the temporary restorations and check to make sure everything is just right with the new ones. Dr. Esparza can still make adjustments as needed at this point -- and once we get your final approval, they are securely bonded onto the front surface of each tooth!
Benefits of Porcelain Veneers
Minimally invasive procedure
Customizable for natural looking results
Corrects any number of cosmetic issues
Highly stain resistant
Long lasting with proper upkeep
Are Veneers Right for You?
Veneers are reserved for making cosmetic improvements to healthy teeth. If you are in good oral and overall health, free from gum disease and significant dental damage or decay, porcelain veneers could be a wonderful option for your smile. They can be used as instant orthodontics in cases of minor gaps or off center teeth, but severe misalignments are still better served by traditional orthodontic methods.
Learn More About Veneers Today!
If you are interested in learning more about your options in cosmetic dentistry, like whether or not you are a candidate for dental veneers, we invite you to contact Esparza Family Dentistry! We can't wait to help you reveal your very best smile. Request an appointment with your cosmetic dentist in Virginia Beach today.
Explore More Services
Preventive Dentistry Check-Ups & Cleanings Cosmetic DentistryRestorative Dentistry Dental Implants Emergency DentistrySee All Our Services