Implant Dentures – Virginia Beach,
Lasting Tooth Replacement and a Healthier Smile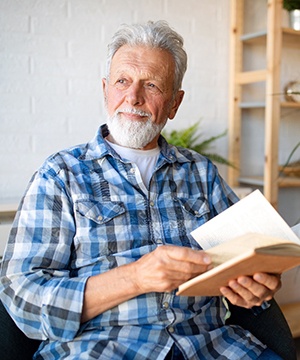 Tens of millions of Americans are missing all of their teeth, leading them to opt for quick and affordable solutions like dentures. While dentures can certainly be a useful prosthetic for replacing several teeth at a time, they aren't perfect. Not only do many patients wish they could eat harder foods and expand their diet in general, but the risk of their denture loosening and falling out of their mouth while speaking is a regular issue. With implant dentures in Virginia Beach, these problems are a thing of the past. Request an appointment at Esparza Family Dentistry today to learn more!
What Are Implant Dentures?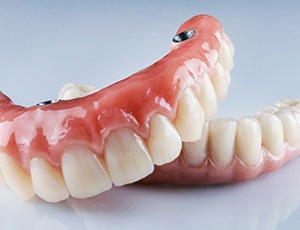 An implant denture looks very similar to a regular denture but instead of being held in place through natural suction, it attaches to a series of dental implants that have already been surgically placed into the jawbone. Not only does this keep your denture secure but the implants feel more like your original teeth. This is because they work to replace the root as well as the restoration that makes up your smile. Depending on your needs, you have two options to choose from: fixed and removable.
Fixed/Permanent Implant Dentures
Also known as a hybrid prosthesis, fixed implant dentures are not designed to be removed at home. Only a dentist would remove them if they needed to be taken out. In most cases, four to six implants are necessary to hold the denture, which means you'll need to have a sufficient amount of bone tissue for them to fuse properly.
Removable Implant Dentures
A removable implant denture can be taken out for routine cleaning at home, making them more akin to traditional dentures. However, they won't require as many implants to remain secure. In fact, many patients only need between two and five implants placed beforehand, making it ideal if you have diminished bone tissue.
The Implant Denture Process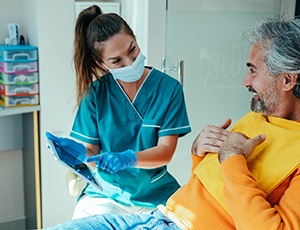 Implant dentures require the same process as receiving a single dental implant with the main difference being the number of implants placed and the type of restoration received. The most important steps include:
The consultation and examination
Surgery (placement of the dental implants)
Healing (which takes several months to complete)
Attachment of the permanent prosthetic
It's true that implant dentures do require more time, money, and healing to receive, but most patients note this is worth it since they get a longer-lasting and more lifelike tooth replacement as a result.
Am I a Candidate for Implant Dentures?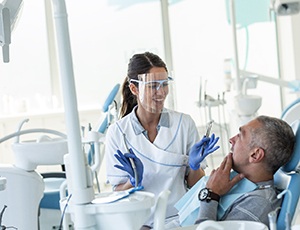 More people are eligible to receive dental implants than ever. However, you will need to meet certain requirements before we can recommend them. Those considering implant dentures should have:
Good oral health (i.e. no existing tooth decay or gum disease)
Decent overall health (you will need to be healthy enough to receive minor oral surgery)
Sufficient bone tissue (we may discuss your options for bone grafting if not enough tissue is available)
Benefits of Combining Dentures & Dental Implants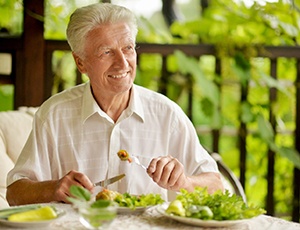 Implant dentures may cost more overall than traditional options, but the benefits they provide are well worth the cost when you ask those who have them. For example, implant dentures:
Allow you to get all your vitamins and minerals more easily from the foods you love
Restore blood flow to your cheeks, preventing premature facial sagging as a result of tooth loss
Prevent the need for denture adhesive (your denture should never shift or slide out of place)
Are designed to last for 30+ years when well maintained
Are easy to keep clean through brushing and flossing day-to-day
Look incredibly lifelike, especially compared to traditional dentures