Virginia Beach Cosmetic Dentist Revitalizes Smiles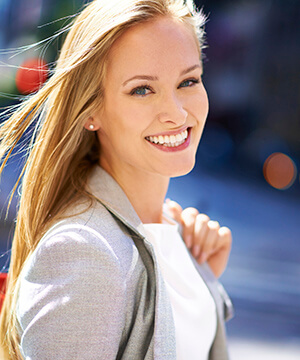 Are you interested in revitalizing your smile? Virginia Beach cosmetic dentist, Dr. Esparza offers a range of popular cosmetic services to help patients just like you. With these services, we improve the whiteness of teeth in addition to hiding cracks, chips, and spacing issues. We also offer restorative services that strengthen your smile while cosmetically improving it. During a visit to our Virginia Beach office, our team carefully considers your needs and makes personalized treatment recommendations. If you have questions about any service we offer, don't hesitate to let us know.
At-Home Teeth Whitening
Tooth stains are common enough that we all benefit from a service like teeth whitening. At Esparza Family Dentistry, we offer at-home teeth whitening so patients achieve remarkable results at their own pace and in the comfort of their own home. At-home whitening uses whitening trays and professional-strength gel to boost the brightness of their teeth so they smile with confidence again.
Tooth-Colored Fillings
Dentists have long used fillings to help patients treat small to medium cavities. The specific type of filling has changed over the years. In the past, dentists treated cavities using an amalgam filling. Amalgam fillings are made of a variety of metals and have a dark gray color that stands out against white teeth. Because of this unattractive color, they can make patients feel self-conscious about smiling and laughing openly.
Thankfully, amalgam fillings are no longer the standard solution for treating cavities. Today, a new type of filling is the filling of choice. Known as composite or tooth-colored fillings, this service has both restorative and cosmetic benefits.
Benefits of Tooth-Colored Fillings
The cosmetic benefits are right there in the name. Tooth-colored fillings can be shaded to match your smile's natural color. As a result, your fillings blend in completely. No one but you and our team will even know you have them.
Beyond this cosmetic benefit, composite fillings are durable. Amalgam fillings change shape when the temperature changes resulting in small cracks that expose the tooth to bacteria. Composite fillings won't change shape. As a result, they're much less likely to develop cracks. Composite fillings are also more supportive of the tooth's natural structure. Once in place, your filling returns your tooth's previous strength. Last but not least, they're a more conservative option because less of your tooth needs to be removed to place them.
Would you like to learn more about composite fillings? Our Virginia Beach office would be happy to answer your questions. Simply give us a call to speak with a member of our helpful team.
Porcelain Veneers
Do you wish your smile looked brighter and straighter? At Esparza Family Dentistry, we offer a popular service known as porcelain veneers to help patients just like you achieve that goal. Veneers are very thin and are placed over the front of your front teeth to hide common flaws like cracks, chips, stains, and minor spacing issues. In most cases, treatment with porcelain veneers is completed in as few as two visits to our office. Learn more about Porcelain Veneers
All-Ceramic Dental Restorations
Restorations have long been made from different materials including metal, but the material of choice today is ceramic. The reason for this is ceramic's natural appearance. Because ceramic reflects light similarly to how natural enamel reflects light, patients have a more natural-looking restoration.
Restorations come in different varieties, from inlays and onlays to crowns, bridges, and dentures. During a consultation at our Virginia Beach office, Dr. Esparza helps you understand what's right for you and answers any questions you might have.
Many restoration procedures are completed in as few as two visits to our Virginia Beach office. In the case of inlays, onlays, and crowns, the first procedure involves prepping your smile and creating a design for your restoration. Then, when our lab has finished crafting your permanent restoration, you'll return to our office to have it permanently attached.
Do you have questions about all-ceramic restorations? Our team would be happy to answer them for you. Simply give us a call to speak with a friendly member of our team.
Cosmetic Dentistry FAQs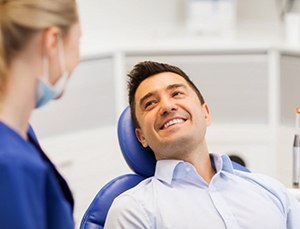 With so many options available, you may have many questions on your mind. We're here to address your concerns and help you take that step toward a more confident smile. Below, we've responded to some of the most asked questions we get from patients and hope it will motivate you to schedule your own consultation with your cosmetic dentist in Virginia Beach, Dr. Esparza. Contact our team to select a time and day that works best for your schedule!
Does Cosmetic Dentistry Hurt?
Maybe you've heard the old adage of beauty is pain, but that's not the case here! At Esparza Family Dentistry, we want everyone to feel comfortable throughout treatment with us. That's why for procedures that could involve discomfort, such as porcelain veneers or restorations, we can administer a local anesthetic to numb the area. As a result, you shouldn't feel any pain. Some patients may have sensitivity after teeth whitening, but we can offer a fluoride treatment to help with that.
Is Cosmetic Dentistry Covered by Dental Insurance?
Purely cosmetic procedures, such as teeth whitening and porcelain veneers, typically are not included in dental insurance benefits. However, other treatments can be both cosmetic and restorative, meaning they help to repair damaged teeth as well as make them look good. As a result, tooth-colored fillings and all-ceramic restorations may be partially covered by your dental insurance policy. Before we recommend any treatment, we'll verify your benefits and check to see if insurance can lower your out-of-pocket costs.
How Long Does Cosmetic Dentistry Last?
It depends on the treatment you're undergoing and how well you care for your smile. For instance, with the appropriate maintenance, porcelain veneers can last for up to 15 years; meanwhile, teeth typically start to lose their brilliance about three years after whitening treatment. It's important to stay current with your checkups and cleanings so that we can keep a close eye on your teeth and help you catch any cosmetic or other problems early on.
Am I a Good Candidate for Cosmetic Dentistry?
Before we can move forward with cosmetic treatment, we have to make sure you meet one condition. Basically, you must have teeth and gums that are free from infection or decay. If we find a problem, such as a cavity or gum disease, we will resolve the problem and then revisit cosmetic work. The only way to know for certain that you are a good candidate for one of these procedures is to meet with Dr. Esparza in person. She will closely evaluate your mouth and let you know if and which cosmetic treatment is right for you.
Explore More Services
Preventive Dentistry Check-Ups & Cleanings Restorative DentistryDental Implants TMJ/Bruxism Therapy Emergency DentistrySee All Our Services