How to Find the Best Dentist

When it comes to taking care of your family, finding the right dentist is paramount not only for everyone's smiles, but their overall health as well. Of course, being a busy military mom herself, Dr. Sarah Esparza knows that finding the perfect dentist, let alone actually visiting them, takes time that many families simply don't have. She completely understands how hectic a schedule can be when work, school and deployments are all involved. In order to help you save precious time during your search for a dentist in Virginia Beach, we've decided to write this handy little guide to help you find what you're looking for even faster. Here are the 5 most important things to consider when choosing a dentist.
The Focus of the Dental Practice
You want to find a practice that has the same goals you do. Is the practice dedicated to helping entire families, or just patients who need dentures? Are the fees for their services competitive, or will they cause financial stress for your family?
At Esparza Family Dentistry, our focus is on families.
What does that actually mean?
Firstly, it means we're happy and able to serve patients of all ages. Whether you have a child who's ready for their first dental appointment or a parent who needs to update their dental work, they (and you) will always have a place at our practice.
Also, because we know that budgets are tight these days, we work hard to make sure that our care is always affordable.
How do we do that?
By focusing on prevention. Our goal isn't to fix dental problems as they pop up, but to help your family avoid them altogether. With just two checkups and cleanings each year, we can prevent common dental problems like tooth decay, cavities, and gum disease that could require more involved and potentially expensive treatments. That way, you save time, money, and unnecessary discomfort in the dentist's chair. This is the approach we take with all of our patients whether they are 3 or 93, and the results are always lower fees, sustained oral health, and a confident smile.
The Dentist
Of course, when choosing a dental practice, a great thing to do first is read the doctor's biography on their site. You'll be able to see where they went to school, how long they have been practicing, as well as learn about them personally. It's a really simple way to get an overall feel for the practice.
For instance, our own Dr. Esparza got her Doctor of Dental Surgery degree from the University of Maryland Dental School in 1999. From there, she joined the U.S. Air Force and served as a general dentist for 7 years. During that time, she completed a residency in general dentistry at the Scott Air Force Base and was stationed at Andersen AFB in Guam and Langley AFB.
Dr. Esparza's husband is an active duty Navy pilot right here in Virginia Beach, and they have a young son, so she understands exactly how important the military is to local families. Every day, she works meticulously to provide the best dentistry that she can. She continually strives to improve herself, which is why she is the member of numerous professional organizations such as the American Dental Association and the Women's Dental Network.
The Dental Staff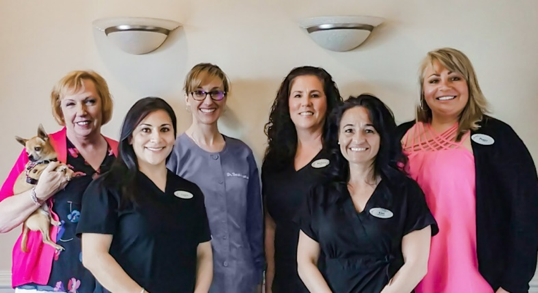 A dentist can't do everything alone. Their staff is absolutely essential to keeping everything running smoothly. Working with the dentist, they'll make sure all of your questions are answered and you have the smoothest, most stress-free dental experience possible.
With our staff, their goal is to make sure you're completely taken care of from your first call all the way until you check out. Each member of our team has been hand-selected by Dr. Esparza because of their experience, training, and dedication to service. They'll be the friendly voice on the phone when you call to make an appointment, the smile that greets you at the door, and the invaluable help you need when discussing treatment and financing options.
Their Dental Services
A practice that offers a wide array of services will be able to take care of more dental problems in-house than one with just a few basic treatments. With more tools at their disposal, they'll be able to formulate more long term treatment plans and save you from having to run all over town to get the care that you need.
In addition to the preventive care we mentioned earlier, we also have an entire range of cosmetic and restorative treatments. Whether you have a damaged or decayed tooth that needs to be repaired or you simply want to whiten your teeth, you can always rely on us to have exactly what you need to make sure your smile is always healthy and beautiful.
Plus, we even offer the most advanced tooth replacement solution available today: dental implants. They are fast becoming the first choice for both dentists and patients alike when it comes to rebuilding smiles, and that's because they offer a security, durability, and natural-look other treatments simply can't match. With dental implants, it doesn't feel like you've gotten replacement teeth—it'll feel like you've gotten your real teeth back.
We also provide emergency dentistry for our patients who need immediate care and TMJ/Bruxism therapy for those who suffer from chronic jaw pain or nighttime teeth grinding. As you can see, whenever you walk through our doors, we can guarantee that you'll always leave with a gorgeous, problem-free smile.
Making Dentistry Affordable
As you well know, dental care is an important if potentially major investment in the health of your family, so you want to find a practice that will help your dollar stretch as far as it can go. Getting essential dental care should never break the bank, so you should look at how a practice will work with you to make your care more affordable.
At Esparza Family Dentistry, we believe that excellent dental care should also come at an excellent value, and that finances should never stand in the way of a family getting what it needs (especially one who has somebody who is serving our country).
With dental insurance, a patient's preventive care (such as cleanings, exams, and x-rays) is usually completely or mostly covered, and other restorative treatments are deeply discounted. This is why we are happy to accept and work with a long list of dental insurance plans, and we do everything we can to maximize a patient's benefits. We are even in-network providers for Delta Dental Premier and United Concordia.
Also, if you currently do not have dental insurance, you can quickly sign up for our own Esparza Family Dentistry Benefit Plan. With our plan, one flat fee will completely cover a year's worth of preventive services (2 cleanings, checkups, and a set of x-rays) and provide significant discounts on restorative care, teeth whitening, oral surgery, and more. These benefits are very similar to that of a typical dental insurance plan, but with us, you won't ever have to deal with copays, deductibles, annual maximums, or waiting periods.
Altogether, for a year's worth of dental care, our plan only costs about $30 per month for an adult and $25 a month for children. There's not a dental insurance plan on the market today that can beat that (including military benefits).
In addition to these options, we can also help patients get flexible, low to no interest financing with CareCredit. In the end, we're dedicated to making sure that your dental care always fits easily into your family budget.
We're Here to Help
We hope this helpful guide saves you time on your search for a family dentist in Virginia Beach. It's an important decision, and we'll do everything we can to help you know how to find the right practice for your family. If you happen to choose Esparza Family Dentistry, we would be extremely grateful, and we can promise to always provide comprehensive, high-quality, and low-cost dentistry.
To learn more about our practice, our services, or to schedule an appointment, please contact us today.