Dental Implants – Virginia Beach, VA
A Long-Term Solution to Tooth Loss
If you have missing teeth, then you've likely already begun to experience some of the pitfalls associated with tooth loss. Not only can it be difficult to show off your smile, but eating your favorite foods can also prove to be impossible. At Esparza Family Dentistry, we offer strong and natural-looking dental implants which use titanium and porcelain materials to create the most realistic looking tooth replacement possible. Give Dr. Sarah Esparza a call to get started!
How Do Dental Implants Work?
Treatment with dental implants is completed over two phases. In the first phase, an oral surgeon places one or more metal posts during a surgical procedure. The number of implants you receive depends on the number of teeth you need to replace. In between the first and second phase of care, a process known as osseointegration occurs. During osseointegration, your implant(s) and jaw form a strong, natural bond creating the foundation for your future restoration. Once the osseointegration process is complete, you'll return to our Virginia Beach office for the second, and final stage of treatment, which culminates in the attachment of your final restoration.
Benefits of Dental Implants
Dental implants are designed to mimic natural teeth as closely as possible, which is why they are so effective at replacing teeth. Just like our natural teeth are held in via roots, titanium implants bond with natural bone tissue and keep teeth effectively anchored in the jaw. Furthermore, they stimulate bone tissue exactly like natural roots, which prevents bone resorption and help you maintain your fullest biting force possible. The same cannot be said for more traditional tooth replacement options (i.e. dentures and bridges.)
Additionally, dental implants make it easy for you to enjoy the foods you've always loved, with no worry of your replacement tooth becoming loose or slipping out of your mouth. There's also no need to have neighboring teeth worn-down just to make room for a crown(s), mainly because the titanium implant is strong enough to hold any type of restoration.
With implants lasting anywhere between 25 years and a lifetime when practicing proper oral care, it's the only true long-term solution for tooth loss.
Indications for Dental Implants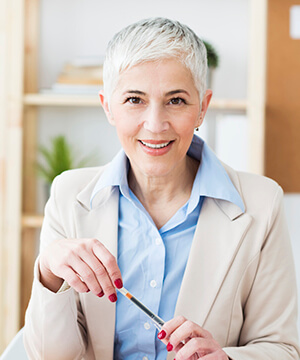 Because dental implants support such a wide range of restorations, patients with diverse needs and backgrounds receive the help they need by choosing them to replace teeth. Take a moment to learn about the many possibilities dental implants can offer.
Missing Single Tooth
Replacing a single tooth is as simple as placing a single implant and porcelain crown. Porcelain best matches natural teeth and is still incredibly durable, making it ideal for long-term tooth replacement.
Missing Multiple Teeth
Instead of buffing down healthy teeth to make room for a bridge, implant-retained bridges use two dental implants to anchor the restoration. Two crowns connect to the implants, while a single porcelain crown sits in between them.
Missing All Teeth
If your denture is no longer meeting your standards, choosing an implant-retained alternative can make a big difference in your daily life. It doesn't matter if you need a denture that's partial or complete, removable or fixed, it can be customized to fit on top of dental implants.
Learn More About All-On-4 Implants
Understanding the Cost of Dental Implants
Keep in mind that the cost of treatment does not have a set price because of how highly customizable your options are. Furthermore, there must be enough bone in the jaw to support one or more implants. If you have insufficient bone volume, a bone graft will be needed to properly support it, raising your overall costs. Additionally, choosing a 3-unit bridge is going to be more expensive than a single implant-retained crown, and so on.
If the cost of your dental implant treatment feels intimidating, keep in mind that your treatment is considered to be the most cost-effective tooth replacement option among dentists. This is because dentures and bridges do not last as long as dental implants, nor do they offer the same restorative benefits. It's best to consider treatment to be a long-term investment that lasts for several decades.
Learn More About The Cost of Dental Implants
Frequently Asked Questions
Even with all this information at your fingertips, you may still have some questions about dental implants. We understand that you want to know everything you can to make the right choice for your tooth replacement. After all, it's a big decision! That's why we're providing the answers here to some of the most common questions that we've received from patients. We hope they make the decision process easier for you and help you feel confident moving forward.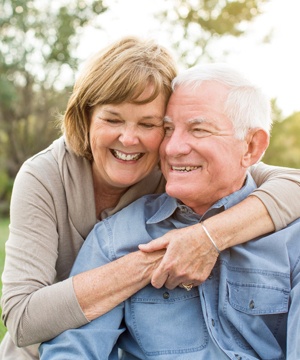 What are dental implants made of?
Below the surface of your gums, dental implants consist of titanium screws that are surgically placed into the socket. Although it's a metal, titanium has been proven over many years to be a safe, effective material to use for implants and replacements both for missing teeth and throughout the body, such as for knee replacement. It is a biocompatible material, which means that it doesn't negatively affect living tissue. In fact, dental implants stimulate the jaw bone to continue growing and stay strong, preventing bone resorption, changes in your jaw shape, and additional tooth loss in the future.
What often are dental implants successful?
In the majority of cases, dental implants are tremendously successful—over 95 percent of the time, even after 10 years. With careful planning before the procedure, capable placement by a qualified implant dentist such as Dr. Esparza, and proper care of your implants, your placement procedure will likely result in your tooth having fully restored health, stability, strength, and beauty for many years to come.
What can cause dental implant failure?
Although rare, dental implant failure can happen. If you have any existing infections in your jaw or gums, the implant will likely not integrate firmly. Similarly, if you have insufficient bone density in your jaw or gum recession, they may not support the implant correctly. Not allowing the surgical site to heal properly after the placement procedure can also endanger the success of your implant. In the long term, dental implants can fail as a result of poor oral maintenance. If you follow our instructions and take good care of your implants, however, there's no reason why they couldn't last for 30 years or even longer.
How long does the dental implant process take?
Because each case is unique, it is difficult to nail down even a general timeline. Yours specifically will depend on factors such as your needs, medical and dental history, the health of the bone, and how quickly you heal. If you need a bone graft or other preparatory procedures, that can extend the time it takes to complete treatment. With thorough diagnostics and your customized treatment plan, Dr. Esparza should be able to give you an estimated timeline, which can be as short as a few months to as long as a year or more for more complicated cases.
If you have any additional questions or you'd like to start the process of getting dental implants, contact our office to schedule a consultation with Dr. Esparza. We can't wait to help you get on the path of full oral health and strength for your smile again.
Schedule Your Appointment Today
Would you like to know if dental implants are right for you? Dr. Esparza would be happy to speak with you about your options. After completing a thorough oral exam, she can discuss your needs and make a personalized treatment recommendation. Call us today to reserve your appointment.
Explore More Services
Preventive Dentistry Check-Ups & Cleanings Cosmetic DentistryRestorative Dentistry TMJ/Bruxism Therapy Emergency DentistrySee All Our Services