Replacing Missing Teeth with Dental Implants for Virginia Beach
Are you missing one or more teeth? At Esparza Family Dentistry, we offer a strong, beautiful alternative to traditional restorative services like bridges, partials, and full dentures. Known as dental implants, this revolutionary service uses titanium implants to achieve results that mimic the look, feel, and function of natural teeth. Once your implants are in place, you experience the renewed sense of joy that comes with having a healthier and more beautiful smile.
How Do Dental Implants Work?
The reason that implant-supported restorations work so well is that they mimic natural structure. Our teeth are held in place by roots, which also have the important job of stimulating bone growth in the jaw. Titanium implants are biocompatible and function in the same way once they've been placed and have an opportunity to fuse with the jaw.
The Treatment Process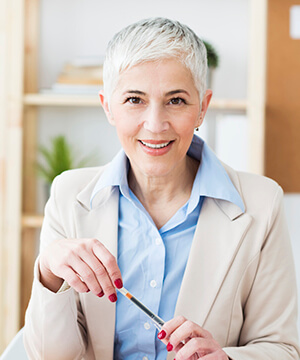 Treatment with dental implants is completed over two phases. In the first phase, an oral surgeon places one or more metal posts during a surgical procedure. The number of implants you receive depends on the number of teeth you need to replace.
In between the first and second phase of care, a process known as osseointegration occurs. During osseointegration, your implant(s) and jaw form a strong, natural bond creating the foundation for your future restoration.
Once the osseointegration process is complete, you'll return to our Virginia Beach office for the second, and final stage of treatment, which culminates in the attachment of your final restoration.
Revolutionary Versatility
Because dental implants support such a wide range of restorations, patients with diverse needs and backgrounds receive the help they need by choosing it. All that's needed is an appropriate amount of bone mass. There must be enough bone in the jaw to support one or more implants. Otherwise, the patient will need to consider an alternative solution.
Schedule Your Appointment Today
Would you like to know if dental implants are right for you? Dr. Esparza would be happy to speak with you about your options. After completing a thorough oral exam, she can discuss your needs and make a personalized treatment recommendation. Call us today to reserve your appointment.
Explore More Services
Preventive Dentistry Check-Ups & Cleanings Cosmetic DentistryRestorative Dentistry TMJ/Bruxism Therapy Emergency DentistrySee All Our Services