Dental Implants — Virginia Beach, VA
A Long-Term Solution to Tooth Loss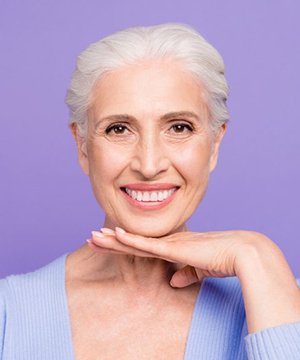 If you have missing teeth, then you likely already know that tooth loss can take a bite out of your quality of life. Not only can it make it much more difficult for you to smile confidently and feel good about your appearance, but it can make eating and speaking more uncomfortable as well. As if that weren't enough, tooth loss can lead to a higher risk of oral health issues and systemic health conditions! While traditional tooth replacement options like dentures and dental bridges can restore your smile quickly, they need to be replaced every several years. At Esparza Family Dentistry, we're proud to offer dental implants in Virginia Beach as a long-term solution to tooth loss! We use high-quality, biocompatible, and natural-looking materials to make your smile look and feel like new. Give us a call today to schedule your consultation!
Why Choose Esparza Family Dentistry For Dental Implants?
Partnered with Talented Local Surgeons for Long-Lasting Results
Honest and Reasonable Prices with No Hidden Fees
Ability to Replace Any Number of Teeth for Decades to Come
What Are Dental Implants?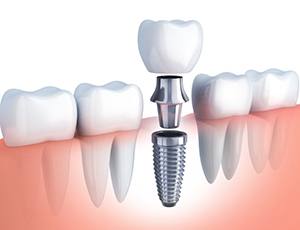 Dental implants are the only way to replace missing teeth both above and below the gumline. A small titanium implant post is surgically placed into the jawbone to mimic the roots of a natural tooth. There, it fuses with the surrounding bone tissue to form a reliably strong and comfortable foundation for your new tooth or teeth. On top of the implant post is a small connector piece called an abutment, which holds in place the final restoration. This custom-made crown, bridge, or denture is carefully designed to look just like the rest of your pearly whites, so it should be practically indistinguishable from them once placed! When you replace missing teeth from the roots up, your smile will once again look, feel, and function just like natural.
The 4-Step Dental Implant Process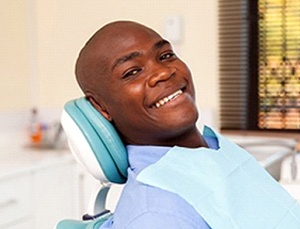 As you might have guessed, recreating every part of a missing tooth is much more complex than simply replacing the crown. Therefore, the dental implant process consists of several more appointments than that of dentures or dental bridges. However, with their potential to improve your quality of life and last for decades, dental implants are worth the extra time and effort! During your initial consultation, we'll walk you through your personalized treatment plan step-by-step so you'll know exactly what to expect. While each patient's specific treatment will differ slightly, here's a basic outline of the process of getting dental implants in Virginia Beach.
Initial Dental Implant Consultation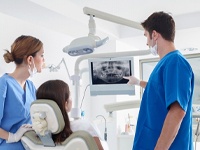 First, you will have a consultation with Dr. Sarah Esparza. She will have a discussion with you about your tooth replacement goals and examine your mouth. If she finds any issues that could potentially threaten the success of your dental implants, such as tooth decay, gum disease, or inadequate jawbone density, she'll work with you to plan out any preliminary treatments needed to get you ready for your new smile. Once any preliminary treatments are completed and you've been cleared as a good candidate for dental implants, X-rays will be taken, and a personalized treatment plan will be created. She'll walk you through step-by-step what you can expect from your upcoming treatment, including its length and cost, and then your surgery can be scheduled.
Dental Implant Surgery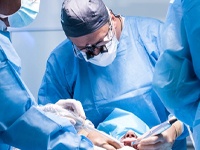 Precise and exact placement is essential for the longevity and success of your dental implants. That's why we partner with some of the best local oral surgeons for dental implant surgery. Having this important part of your dental implant treatment handled by our local trusted implant surgeons ensures that this crucial step goes as smoothly and pleasantly as possible.
During the dental implant surgery, your Virginia Beach implant dentist will numb your mouth. Depending on your unique preferences and health, you may receive dental sedation as well. Once you're completely comfortable, they'll make small incisions in your gums and insert the implant posts into predetermined places in your jawbone. Before stitching your gums closed again, they will place protective caps over the implants to keep them safe throughout the healing process.
Dental Implant Osseointegration & Abutment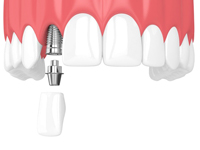 As you heal from this minor oral surgery, the implant post and surrounding bone tissue will fuse together, creating a firm foundation for your new teeth. This process is called osseointegration, and it can take anywhere from three to six months to complete. While this may seem like a long time, it's this unique process that will give your dental implants the potential to last a lifetime! During this time, you will most likely receive a "temporary" set of teeth so that you can get a taste of what your new smile will look and feel like.
Following osseointegration, you'll undergo another small surgical procedure. The tops of your implant posts are exposed, and metal abutments are secured on top of them. Abutments are fixtures that allow Dr. Esparza to anchor your final restorations into place. As you heal over the next several weeks, we'll be hard at work crafting your custom-made restoration.
Delivery of Dental Implant Restorations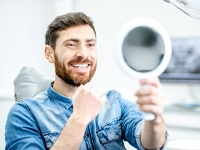 It should take a couple of weeks to fully heal from your abutment surgery. Once healing is complete, you'll return to Esparza Family Dentistry for the last step in the process of getting dental implants in Virginia Beach. At this appointment, your custom-made restoration will be anchored to the dental implants via the abutments. Our restorations are made with lifelike materials that resemble the appearance of natural teeth almost perfectly. After we've placed your replacement teeth, you'll be able to smile with complete confidence once again!
Benefits of Dental Implants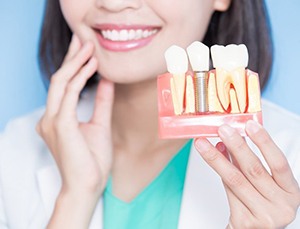 Dental implants are widely regarded by both dentists and patients to be the ideal tooth replacement solution, and it's easy to see why! Because dental implants reconstruct missing teeth from the roots up, they offer a wide variety of important benefits that you simply can't get with other options like dentures or a dental bridge. Here are just a few of the ways that dental implants in Virginia Beach can change your life!
Day-to-Day Benefits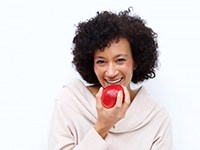 Eat your favorite foods – You won't have to worry about your replacement teeth becoming loose or slipping out of your mouth, making it easy to enjoy the foods you've always loved. Additionally, implants restore most of the chewing power you had before tooth loss by bringing back the root structure.
Drink your favorite beverages – Regular dentures tend to warp their shape when you drink hot beverages (coffee, tea, hot chocolate, etc.) while wearing them. Dental implant restorations, on the other hand, are specially made to retain their shape no matter the temperatures they're exposed to. They let you enjoy your favorite beverages to your heart's content!
Smile confidently – Unlike dentures that can slip around at unexpected moments, you can trust that implants will stay in place. The replacement teeth on top of them are also personalized to mimic the size, shape, and color of your natural teeth, so onlookers won't be able to tell the difference.
Health Benefits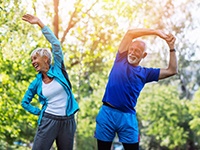 Jawbone preservation – One of the most well-known benefits of dental implants in Virginia Beach is their ability to stimulate your jawbone through biting and chewing, just like real teeth. This prevents the bone resorption that commonly occurs after teeth are lost. As a result, your jawbone remains strong, reducing your risk of further tooth loss and preventing your face from sagging in a way that ages you.
No tooth sensitivity – Dental bridges rely on two of your adjacent teeth for support, requiring the removal of some enamel. Eventually, these teeth become weaker and more prone to sensitivity, fracture, and decay. In contrast, dental implants are independent tooth replacements that won't have any negative impact on surrounding teeth.
Healthier mouth and body – Studies have found a link between extensive tooth loss and multiple health concerns, including type 2 diabetes, heart disease, and osteoporosis. Since dental implants function exactly like real teeth, it's reasonable to assume that they lower said risks.
Long-Term Benefits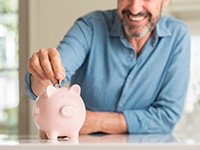 High success rate – As long as you take good care of your implants with daily oral hygiene (which involves the same brushing and flossing as natural teeth) and routine checkups with your implant dentist in Virginia Beach, your new teeth have a more than 95% chance of being successful in the long run.
Long-lasting results – While dentures and bridges only last for about a decade at most, dental implants are capable of lasting for 30+ years, or maybe even for the rest of your life, with the right care.
Saved money – Although dental implants cost more initially than traditional options, they actually save you money over time. You won't have to constantly buy specialized cleaning products or adhesives, and you won't have to pay for tooth replacements every few years. This makes dental implants one of the smartest financial investments you can make in your smile!
Who Dental Implants Can Help
No matter how many teeth you're missing, dental implants can help. This unique tooth replacement solution can support a variety of restorations depending on the extent of your tooth loss. What's more, nearly any healthy adult with missing teeth can become a good candidate for dental implants. However, you may need to complete a few preliminary treatments beforehand to ensure the success of your new smile.
Who Is a Good Candidate for Dental Implants?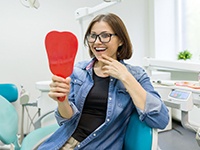 To be considered a good candidate for dental implants, you'll need:
Good overall health: Placing dental implants is a minor surgical procedure, so you need to be well enough to undergo sedation or anesthesia to stay comfortable.
Great oral health: Since issues like tooth decay and gum disease can cause your dental implant to fail, your mouth needs to be healthy before we begin treatment.
Adequate jawbone density: It's essential that your is strong and healthy enough to fuse to the dental implant once it's been placed.
Don't worry — even if you're not a good candidate right away, you could still become one. In fact, many of our patients need to have preliminary treatments completed before rebuilding their smiles. Dr. Esparza will help you plan out services like tooth extractions, periodontal therapy, and bone grafts to help you get ready for your dental implants. Then, she'll be able to determine how many dental implants you'll need and what type of restoration would be best for your smile depending on how many teeth you're missing.
Missing 1 Tooth
Replacing a single tooth is as simple as placing a single implant and porcelain crown. Porcelain best matches natural teeth and is still incredibly durable, making it ideal for long-term tooth replacement.
Missing Multiple Teeth
Instead of buffing down healthy teeth to make room for a bridge, implant-retained bridges use two dental implants to anchor the restoration. Two crowns connect to the implants, while a single porcelain crown sits in between them.
Missing All Teeth
If your denture is no longer meeting your standards, choosing an implant-retained alternative can make a big difference in your daily life. It doesn't matter if you need a denture that's partial or complete, removable or fixed, it can be customized to fit on top of dental implants.
Understanding the Cost of Dental Implants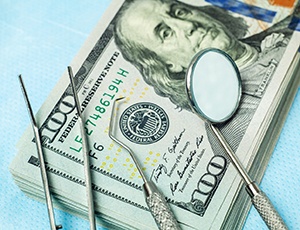 If you have missing teeth, then replacement is very important for the sake of your smile and for your oral and general health, too. While options like dentures and dental bridges have a lower initial cost than dental implants, they could cost you more in the long run. The cost of repairs and replacements for these restorations will add up over the years, which could easily make the one-time cost of dental implants far more cost-effective in the long run.
Keep in mind that the cost of dental implants in Virginia Beach does not have a set price because of how highly customizable your options are. For example, preliminary treatments like bone grafts or periodontal therapy will increase the cost of your treatment if they're needed. Additionally, the more teeth you need to have replaced, the higher the final price will be. If the cost of your dental implant treatment feels intimidating, remember that they are well worth the investment because they can potentially last a lifetime.
Preliminary Treatments & Dental Implant Surgery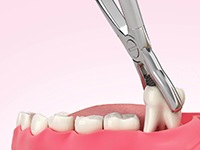 Bone grafting, periodontal therapy, tooth extraction, and even sinus lifts are all potential preliminary treatments that can increase the cost of your dental implant care. While this may not sound reassuring, remember that these additional procedures are necessary (for some individuals) to ensure a successful and longer-lasting smile.
No matter if you require preliminary treatments, the dental implant surgery will also be factored into the overall cost. Because our team at Esparza Family Dentistry partners with local surgeons to ensure your dental implant placement is a success, you will be expected to pay two separate fees. One will go to pay the oral surgeon and the other will be for your customized implant restoration, which you will receive from our office.
The Parts of Your Dental Implant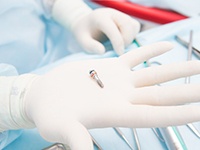 It is believed that around 92.5% of all dental implants use titanium. Why? Because this material is known for its ability to fuse with the bone and surrounding tissue quite well. While there are certainly other types of implants available (i.e., ceramic), your implant dentist in Virginia Beach will be happy to go over the brand and manufacturer we use to provide our patients with the highest, most reliable solutions. Yes, you can opt for cheaper alternatives, but just because it's less expensive doesn't mean it will be of better quality. In fact, you could end up spending more by choosing someone who will place less expensive implants because they may not last nearly as long.
Final Dental Implant Restoration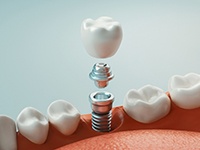 At our dental office, you'll be pleased to learn that we are qualified to place your customized implant restoration. Because of its versatility in replacing one, multiples, or all your missing teeth, you may receive an implant crown, bridge, or denture. Depending on the number of teeth you are missing, the cost of your restoration will vary. It is not surprising that a crown will be much less than a full denture but no matter which type of artificial restoration you receive, you can trust that it will be created using the highest-quality materials possible.
Does My Dental Insurance Cover Dental Implants?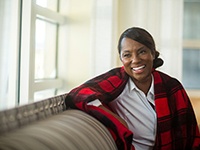 If you're hoping that your dental insurance company will pay for a majority of your dental implant treatment, you may be disappointed. While some are coming around to the idea of offering available coverage, many still do not view these prosthetics as "medically necessary." As a result, you will need to consider your other options. It may be possible to inquire if any portion of your treatment is covered (i.e., initial consultation, custom restoration, preliminary treatment). It may be possible to lower your out-of-pocket expenses this way.
Making Dental Implants Affordable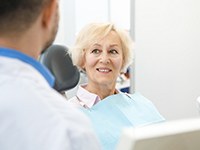 You may be surprised to learn that even if your dental insurance company does not help with your dental implants in Virginia Beach, there are other ways to keep your costs low.
You can enroll in the Esparza Family Dental Plan, which requires one low annual fee and offers free preventive care as well as discounts on other available services.
You can apply for flexible financing through CareCredit, which is a third-party company that offers low and no interest payment plans.
Our team at Esparza Family Dentistry wants to make sure you achieve the smile of your dreams. By helping you better understand the cost of your treatment, we can help you navigate the financial side of dentistry without the added stress. Contact us today!
Maintaining & Caring for Your Dental Implants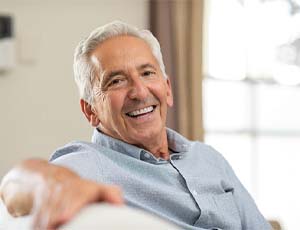 With a success rate of more than 95 percent and an average lifespan of 30+ years, it's easy to see why dental implants have become the preferred tooth replacement for dentists and patients all around the world. Keep in mind, though, that just because they can last for decades doesn't necessarily mean they will . You still have to take good care of your dental implants if you want them to provide you with a healthy smile for years to come. Luckily, dental implant care in Virginia Beach is relatively simple as long as you follow these five easy steps!
<read more>
Make Oral Hygiene a Priority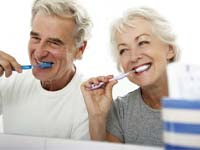 While dental implants can't get cavities, any natural teeth that you still have certainly can. Even if you've replaced all of your natural teeth, you're still susceptible to gum disease, which is actually the leading cause of dental implant failure. For that reason, oral hygiene is still important when you have dental implants. To keep your teeth – both real and artificial – in great shape, make sure to floss every day and brush twice a day for two minutes each time.
Eat a Healthy Diet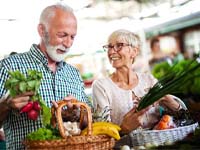 There's nothing wrong with enjoying a bowl of ice cream or a bag of potato chips every once in a while. However, overindulging in sugary or starchy foods can be detrimental to your dental implants in Virginia Beach. Instead, have your diet contain mostly mouth-healthy foods like fresh fruits and vegetables. For dental implants, foods rich in calcium and vitamin C are wonderful; these nutrients encourage a healthy jawbone and gum tissue, respectively.
Break Bad Habits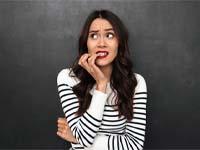 Many of the same habits that can damage natural teeth are also dangerous for dental implants. Biting your fingernails, chewing on pens or pencils, crunching on ice, or using your teeth to open bottles can easily chip your restoration or even harm the implant itself. Smoking (or chewing tobacco) is another hazardous habit; not only does it increase the risk of health concerns like gum disease and oral cancer, but it may prevent the implants from integrating with the jawbone. If you need help breaking any harmful oral habits, ask your implant dentist in Virginia Beach for help!
Protect Your Dental Implants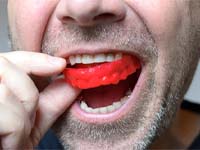 Do you play contact sports? Do you tend to grind your teeth when you're stressed or asleep? If yes, it's worth investing in a custom mouthguard. By comfortably fitting over your teeth, these oral appliances protect your smile from sports-related injury or weakening from chronic teeth grinding. Better yet, personalized mouthguards from Esparza Family Dentistry feel more natural and provide greater protection than cheaply made guards from the local pharmacy.
Schedule Regular Dental Checkups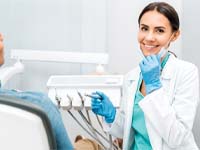 In addition to caring for your new smile at home, you'll also need to visit our dental office for six-month checkups. At these appointments, we can detect small warning signs of issues before they become serious, preventing pain, expensive treatments, and even potentially dental implant failure down the road. Regular dental visits can keep your newly restored smile in great shape for years to come!
Dental Implant FAQs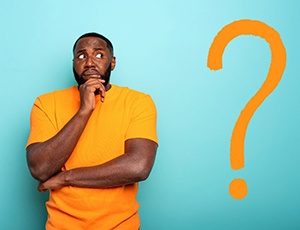 Even with all this information at your fingertips, you may still have some questions about dental implants. We understand that you want to know everything you can to make the right choice for your tooth replacement. After all, it's a big decision! That's why we're providing the answers here to some of the most common questions that we've received from patients. We hope they make the decision process easier for you and help you feel confident moving forward.
What Are Dental Implants Made of?
Below the surface of your gums, dental implants consist of titanium screws that are surgically placed into the socket. Although it's a metal, titanium has been proven over many years to be a safe, effective material to use for implants and replacements both for missing teeth and throughout the body, such as for knee replacement. It is a biocompatible material, which means that it doesn't negatively affect living tissue. In fact, dental implants stimulate the jawbone to continue growing and stay strong, preventing bone resorption, changes in your jaw shape, and additional tooth loss in the future.
How Successful Is Dental Implant Treatment?
In the majority of cases, dental implants are tremendously successful—over 95 percent of the time, even after 10 years. With careful planning before the procedure, capable placement by a qualified implant dentist such as Dr. Esparza, and proper care of your implants, your placement procedure will likely result in your tooth having fully restored health, stability, strength, and beauty for many years to come.
What Can Cause Dental Implants to Fail?
Although rare, dental implant failure can happen. If you have any existing infections in your jaw or gums, the implant will likely not integrate firmly. Similarly, if you have insufficient bone density in your jaw or gum recession, they may not support the implant correctly. Not allowing the surgical site to heal properly after the placement procedure can also endanger the success of your implant. In the long term, dental implants can fail as a result of poor oral maintenance. If you follow our instructions and take good care of your implants, however, there's no reason why they couldn't last for 30 years or even longer.
How Long Does the Dental Implant Process Take?
Since each patients' treatment is customized, each treatment timeline will vary slightly. The length of your treatment will depend on factors such as your oral health, medical history, the need for preliminary procedures, how many dental implants you need, and your natural healing ability. With thorough diagnostics and evaluation during your initial consultation, Dr. Esparza should be able to give you an estimated timeline, which can be as short as a few months to as long as a year or more for more complicated cases.
Explore More Services
Preventive Dentistry Check-Ups & Cleanings Cosmetic DentistryRestorative Dentistry TMJ/Bruxism Therapy Emergency DentistrySee All Our Services