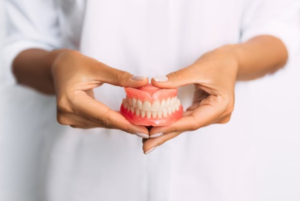 Dentures have assisted countless generations of patients with rebuilding smiles ravaged by missing teeth, and if you have the prosthetics, you're probably pleased with how they've assisted you over the years. However, there often comes a time when dentures need to be relined to ensure that they continue serving you well. Keep reading to learn a little more about dentures and why they need to be relined, along with why it's going to be in your best interest to have your dentist perform the task!
Why Dentures Need to Be Relined
If you've had dentures for some time, you've probably gotten used to eating and speaking with them over the years, and you might not even notice a difference at all anymore when it comes to oral functionality. However, it's possible that you might begin to notice some changes with your restorations, particularly with how they fit together.
This is because your jaw continues to change over time since it's no longer housing all of your natural teeth; the simple way of putting it is that this change across your mouth's landscape ultimately influences how your dentures rest inside your mouth. And unfortunately, if your dentures don't fit as intended, you're at risk of several oral health issues such as mouth sores and impaired oral functionality.
How Dentures Are Relined
Dentures can thankfully be relined with the help of your dentist! The process is pretty straightforward; an impression is made of the existing denture, and then it's sent to a lab where acrylic material is used to fill in gaps in the base that meet anywhere the gums might've changed. This is known as a "permanent" reline. There are also "soft" relines which are appropriate for patients with sensitive tissue or excessively resorbed ridges, but these usually don't last for as long as permanent relines.
Why You Shouldn't Reline Your Dentures Yourself
Though it might seem cheaper or more convenient to reline your dentures yourself, here are four reasons why you should rely on your dentist to do so instead:
Your dentist is an expert on all things relating to oral health, including dentures; not only will they be able to identify when your dentures need to be relined, but they also have the means to correctly do so.
Possibility of damage to your dentures, as DIY kits sometimes involve materials or methods that aren't suitable for dentures.
Oral health risks like gum inflammation, oral sores, headaches due to jaw pressure, jaw atrophy, and limited oral functionality can affect your diet.
Long-term cost implications; while it might seem cost-effective to attempt to reline your denture yourself, this can lead to costly future expenses.
About the Practice
Dr. Sarah Esparza and her team have proudly served patients and families in the Virginia Beach community for several years. They're thrilled to offer a wide range of services including restorative options like dentures to help you or your loved one rebuild their compromised smile. If you have any questions about the blog or you'd like to arrange a consultation, you can contact the practice online or by phone for further information or assistance. Telephone: (757) 499-4707.