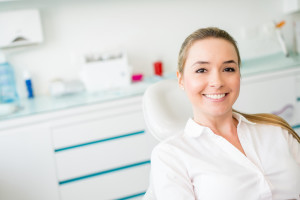 What's more precious to you than your family and their well-being? It tops your list, right? So, pick a dentist in Virginia Beach to provide trusted, expert services for years to come. Read some tips here regarding picking the right dentist. We're confident you'll choose Dr. Sarah Esparza.
Look for Complete Care
Whether it's preventive care, restorations, cosmetic treatments or emergency availability, your new dentist and his or her staff should provide it all. From cleanings to digital x-rays and oral cancer screenings to athletic mouthguards to dental implant restorations and porcelain veneers, your family dentist in Virginia Beach should provide all that you, your children and the seniors in your family need for best health and smile aesthetics.
Be sure to check your prospective dentist's credentials–dental school, continuing education, professional associations and list of services. They should be available on the practice website. Additionally, you might ask a neighbor or trusted friend for a dental referral. What do they like about their provider? Does the doctor offer the services you need: children's dentistry, for instance, or periodontal care for your gums?
Another referral source is online reviews. Most dentists offer a place on their website for actual customer reviews. Also, they may advise looking at Facebook, Google+, Angie's List or Healthgrades.com to see people are saying about your prospective choice.
Preventive Care is Most Important
To support your family's oral hygiene routines, your new dentist must provide six-month check-ups and hygienic cleanings to keep tooth surfaces and gums healthy and to assess for:
Dental decay
Gum disease
Oral cancer
Bite problems
Aesthetic problems such as gaps, crowding and stains
Wear and tear of existing restorations such as fillings and crowns
A great dentist creates comprehensive treatment plans to maintain what's right with a smile and to fix problems–whether they're related to oral health, function or appearance. Prevention of issues is primary, and if problems occur, rapid, comfortable, modern treatment is critical.
Restorative Treatments
Decay and disease threaten oral and systemic health. Dr. Esparza stays current with modern dental treatments to fully restore compromised teeth and gums.
Services include:
Crown and bridge
Dental implant restorations
Dentures
Tooth-colored fillings
Periodontal (gum disease) therapy
Sedation dentistry, including traditional nitrous oxide, helps fearful patients get the work they need painlessly and without anxiety. What options does the dentist you are considering offer?
In addition, reliable emergency care is part of restorative dentistry at Esparza Family Dentistry. When you or a family member are in pain, have an oral laceration or avulsed tooth, you should be able contact your immediately for compassionate advice and same-day treatment as needed. Your phone call always receives prompt attention at Esparza Family Dentistry.
Cosmetic Treatments
Your new dentist should understand that an attractive smile is an asset and boosts self-confidence. So, he or she address aesthetic goals–everything from correcting stained teeth with teeth whitening to filling gaps with composite resin to covering fractures and gaps with porcelain veneers.
How the Office Works
Finally, you need to feel comfortable and valued at your dental office. Arrange an office tour and speak to the support staff. You should be warmly welcomed have all your questions answered completely and respectfully. Inquire about what insurances are accepted and if the office has a payment plan such as Care Credit for more expensive procedures. How does the dentist accommodate families with no insurance? For instance, Dr. Esparza offers a discount plan for families who have no coverage.
Make Your Final Choice
You can trust Esparza Family Dentistry for compassionate family dentistry in Virginia Beach. Please contact the office for your initial consultation. The staff will be happy to answer all your questions and deliver the care you and your family needs.