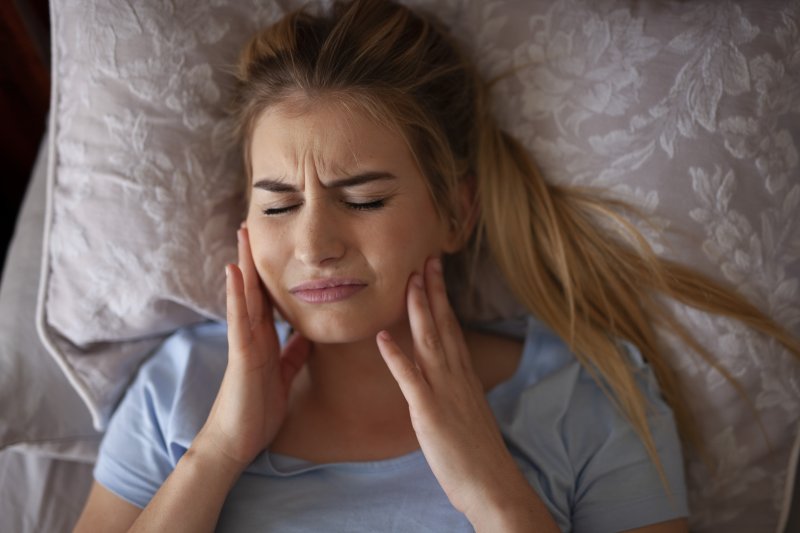 Tooth loss is a dental problem that over 120 million Americans are struggling with. Fortunately, the negative effects on your smile, bite, and speech don't have to be permanent thanks to state-of-the-art dental implants! While this tooth replacement solution can last for 20+ years, restore your bite force, and preserve your jawbone, it isn't an ideal fit for everyone. If you chronically clench or grind your teeth, here's what you need to know about bruxism and dental implants.
What Is Bruxism?
Bruxism is a common oral health condition that involves repetitive teeth grinding or clenching. Unfortunately, it is often a nocturnal habit, causing it to go undiagnosed for years. A few common symptoms include jaw soreness, worn down teeth, and frequent headaches. Although the root of the problem can vary from patient to patient, a few common culprits include stress, misalignment problems, and missing teeth. If left untreated, the damage can worsen, wreaking havoc on your oral health in the process.
The Link Between Bruxism & Dental Implant Failure
One of the pillars of a successful dental implant is osseointegration. This is the period of time when the implant post fuses with your jawbone, ensuring maximum durability and no movement. From start to finish, this process typically takes several months, during which time no excessive pressure should be placed on your teeth. That's why the repeated clenching and grinding associated with bruxism can result in dental implant failure. Fortunately, treatment is available!
How Is Bruxism Treated?
If bruxism is the only thing standing in your way of rebuilding your smile and bite with dental implants, you'll be happy to know that there is a solution. By wearing a custom-made oral appliance, you can keep the condition under control. Prioritizing stress management and implementing relaxation techniques can also reduce chronic grinding and clenching. Simply put, having bruxism doesn't automatically eliminate you from being a candidate!
If you are missing one or more teeth but are unsure which tooth replacement options are available to you because of bruxism, it's time to talk to your dentist. From there, they can help you get your symptoms under control so you can enjoy a full, healthy smile again!
About the Author
For over two decades, Dr. Sarah Esparza has been using her extensive experience, advanced training, and genuine passion for her craft to help her patients achieve pristine oral health and beautiful smiles. She earned her Doctor of Dental Surgery from the University of Maryland Dental School, Baltimore and served in the US Air Force as a general dentist for seven years. Today, she is an active member of the American Dental Association, which ensures she is abreast of the latest techniques and technology. If you are interested in treatment for Bruxism or learning more about dental implants, visit her website or give her a call at 757-499-4707.