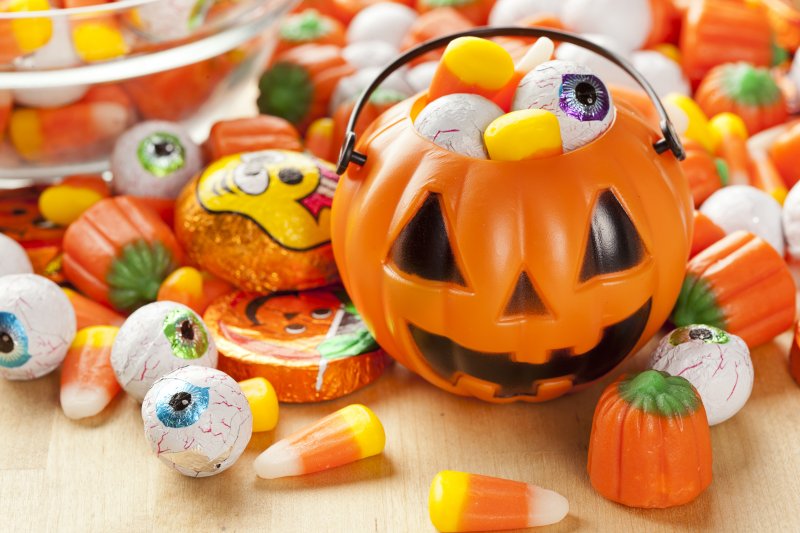 Are you ready for some scary statistics? The average American consumes 3.4 pounds of candy during the Halloween season and kids consume up to 7,000 calories after trick-or-treating. Yikes! So, it's not surprising that there is a spike in tooth decay this time of year. Therefore, it is crucial that you protect your child's smile from cavities after Halloween. Between the fun costumes, scary décor, and seasonal festivities, keep the below best and worst candies for your child in mind!
Chocolate
When sugar interacts with the bacteria in your child's mouth, it produces an acid that eats away at the enamel on their teeth. While chocolate candies can lead to the same outcome, they are the preferable choice since the remnants can be rinsed away fairly easily. Plus, dark chocolate is low in sugar and high in tannins that inhibit the bacteria from sticking to their teeth. So, indulging in a piece or two may help their teeth!
Sticky and Gummy Candy
Sticky and gummy candies are some of the worst ones for your child's teeth. Since they cling to the tooth's surface, they are difficult to remove effectively. Therefore, it's best to stick with the practice, "Be picky if it's sticky!"
Hard Candy
While the sugar content is substantial alone, hard candies pose an additional risk to your child's oral health – they can chip, crack, or fracture their teeth! One wrong bite can turn a fun night of trick-or-treating into an anxiety-inducing trip to the emergency dentist. Fortunately, you can protect your child's smile on the front end by removing these candies before they get a chance to bite into them.
Sour Candy
Although your child's taste buds may love the mouth-puckering effect of sour candy, their teeth do not. In addition to being sticky and covered in sugar, they are very acidic in nature. A few too many will lead to enamel erosion, unpleasant stains, and tooth decay. If this is your child's candy of choice, make sure they indulge shortly after their meal, drink plenty of water, and complete their oral hygiene routine before bed.
To prevent one candy-filled night from turning into weeks of dental care, be selective about the treats your child indulges in on Halloween. Fortunately, you can use the above list to help!
About the Author
After completing her undergraduate degree at Fairfield University, Dr. Sarah Esparza earned her Doctor of Dental Surgery at the University of Maryland Dental School. For over two decades, she has used her extensive education, advanced training, and genuine passion for dentistry to help her patients achieve pristine oral health and beautiful smiles. If your child's teeth need some Halloween time TLC or you are looking for a children's dentist in Virginia Beach, don't hesitate to visit her website or give her a call at 757-499-4707.