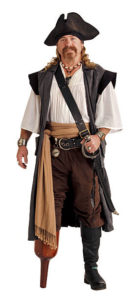 Did you know that September 19th is "Talk Like a Pirate Day?" Pirates are well-known for their treasure maps, but they are also memorable for their bad teeth. While you spend the day talking like a pirate, don't let your teeth succumb to their bad habits. Here's how you can keep your pearly whites healthy and looking their best.
1. Commit to Brushing Twice Daily
Your toothbrush is the most commonly used item you have at home to keep your mouth clean and healthy. Toothbrushes have been used around the world for centuries. Animal bristles, twigs, and other objects were used to clean teeth, but pirates didn't have access to these materials while at sea, which affected their dental health.
The American Dental Association recommends brushing your teeth at least twice per day using a soft-bristled toothbrush and fluoride toothpaste. Clean all surfaces of your teeth for at least 2 minutes. Don't forget to brush your tongue.
2. Floss Every Day
If pirates weren't brushing their teeth, they probably weren't flossing either. Flossing removes the buildup your toothbrush can't reach to keep your gums healthy. Unfortunately, 50% of adults over the age of 30 have gum disease. It's a leading cause of tooth loss and is linked to many health issues, including heart disease.
Flossing is the best way to keep gum disease at bay. Use waxed floss to clean between each tooth at least once a day. If you notice red, swollen, or bleeding gums, don't wait to contact your dentist. They are signs of gingivitis, which is the first stage of gum disease.
3. Watch What You Eat
Pirates often suffered from scurvy. The disease is caused by a lack of vitamin C. They didn't have access to fresh fruits and vegetables very often, leading to many complications, including bleeding and swollen gums.
You can keep your mouth and body healthy by eating nutritious foods, including plenty of fresh fruits and veggies. Limit your consumption of sugars and starches, which feed cavity-causing bacteria. Drink plenty of water to stay hydrated. It will keep your mouth moist to combat oral bacteria.
4. Visit Your Dentist Regularly
Pirates didn't have access to dental care either. Preventive dentistry stops common oral health issues from occurring in the first place, like cavities and gum disease. The American Dental Association recommends a cleaning and checkup every 6 months.
As you spend the day acting like a pirate, don't forget to give your mouth the attention it needs. Commit to good oral hygiene and a healthy lifestyle to look and feel your best.
About Dr. Sarah Esparza
Dr. Esparza earned her dental degree from the University of Maryland Dental School and has regularly continued her education to provide the most up-to-date solutions. She focuses on prevention to help each patient reach optimal oral health. Request an appointment through her website or call (757) 600-6033.