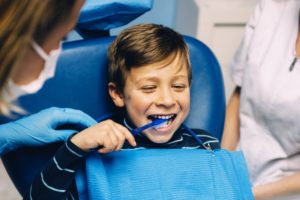 Do you have dental insurance for everyone in your family? If so, it only makes sense to get the most out of your benefits as possible. This includes maximizing your coverage for your kids. After all, most dental insurance benefits expire once the clock strikes midnight on December 31st. Keep reading to learn why now is the perfect time to maximize your children's dental insurance coverage and how to save money while also giving them a healthy smile!
Why is Now the Right Time to Maximize Your Kids' Dental Benefits?
For the majority of dental insurance plans, there is an annual limit on how much money you can put toward dental care in a calendar year. However, only about 3% of Americans ever use all of this coverage, and since any unused benefits do NOT carry over into the next year, that means a lot of dental dollars go to waste! Once January 1st arrives, you'll have to pay a small amount of money out-of-pocket, called your deductible, before you can access coverage from your insurance carrier. To prevent the coverage your plan provides to you from going to waste, it's best to pay for any necessary treatments before December 31st.
How to Make the Most of Your Child's Dental Insurance Coverage
If your child is included on your family dental insurance plan, there are a few easy things you can do to maximize their coverage and save as much as possible:
Take your child to two checkups per year – Most dental plans fully cover two checkups and cleanings a year for adults and kids alike. Since these visits are basically free, you might as well have your child attend them every six months. With routine preventive care, your son or daughter can often avoid oral health problems down the road that require pricey, extensive procedures.
Complete additional treatments right away – If your little one has a minor dental issue, like a cavity, it's better to address it sooner rather than later. Damaged or decayed teeth can't heal themselves, meaning they'll only get worse when left untreated. So, it would be more affordable to have fillings completed now instead of paying for pulp therapy or tooth extraction in the future.
Avoid losing unused benefits – Your annual coverage, and your deductible, reset at the start of each new year. If you get your child's necessary treatments squared away before 2022 ends, you can rest easy knowing you made the most of your benefits.
Dental insurance can be confusing at times, but by keeping the above tips in mind, it will be easy to maximize your child's coverage and enjoy a great deal of savings ahead of the new year!
About the Author
Dr. Sarah Esparza has more than two full decades of experience in the field of dentistry. Before serving as a general dentist in the United States Air Force, she earned her Doctor of Dental Surgery degree from the University of Maryland Dental School. Her practice, Esparza Dental, is in-network with Delta Dental Premier and United Concordia, but they're always happy to file claims and maximize benefits for any PPO dental plan. For more information on dental insurance or to schedule an appointment for your child, visit her website or call her office at (757) 499-4707.