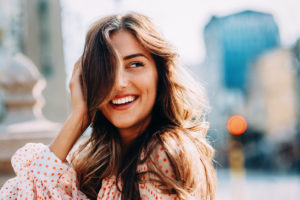 Do you dislike the cosmetic imperfections that spoil your smile? Chips, cracks, stains and odd tooth shape embarrass anyone no matter their age or lifestyle. Dr. Sarah Esparza, your dentist in Virginia Beach, offers porcelain veneers to enhance healthy smiles which just need a little cosmetic help. They could give you the smile you've always dreamed of.
Porcelain Veneers in Virginia Beach Change Your Smile Zone
Dentists call the teeth directly in the front of your mouth the smile zone. These teeth show when you smile or laugh. While they may be perfectly healthy, the teeth sometimes are spoiled by cosmetic imperfections such as hairline cracks, chips, stains, gaps or crowding.
Restorations such dental crowns or orthodontics involve a big investment of time and money, and frankly, you may not need them.  A personal consultation with Dr. Esparza and her team can tell you if porcelain veneers–also called dental laminates–could remodel your smile zone.
What are porcelain veneers? These customized, tooth-like shells of fine porcelain bond to the front of damaged teeth, improving their strength, shape, size, alignment and color. Permanent and very durable, porcelain veneers blend right with natural tooth color, smile width, and facial features.
The Veneer Process is Simple
To start off, Dr. Esparza determines if your teeth are healthy enough to receive porcelain veneers. She looks for decay and gum disease which, if untreated, disqualify someone from getting dental laminates. Also, she takes digital X-rays, photos and other kinds of images to devise an aesthetic treatment plan. She discusses your particular needs and wants and then presents options for your new look.
If you and your dentist decide to proceed with veneers, Dr. Esparza removes a very thin portion of enamel from the front side of each tooth which will receive a laminate. She takes oral impressions to send to a trusted dental lab where a technician constructs a three-dimensional model of your mouth. The technician uses this model and his or her artistic skill to craft each veneer with just the right shape and color to complement your smile.
During the second appointment, Dr. Esparza mounts the veneers on your teeth. She uses a permanent adhesive and cures it with a special light. She ensures the bite, color and fit are perfect.
Most patients adjust to their porcelain veneers very quickly. At home, they brush twice a day each day and floss in between teeth as usual. Dr. Esparza encourages her patients to avoid staining beverages and extra-hard foods such as peanut brittle to ensure the veneers stay in place and do not chip or crack. She asks to see all her patients every six months for preventive exams and cleanings.
Makeover Your Smile
Porcelain veneers may be part of a total smile makeover. Dr. Esparza and her friendly staff offer other aesthetic treatments such as professional teeth whitening, tooth-colored fillings and all-ceramic restorations to create exceptional smiles. Please contact Esparza Family Dentistry today for a cosmetic dentistry consultation with Dr. Esparza.