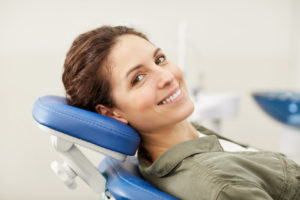 Did the COVID-19 pandemic force you to postpone a dental appointment? As the state of Virginia begins to open back up, many folks are eager to resume their normal routines – including visiting their dentist. However, some patients are still concerned about whether it is safe enough to hop back into the dentist's chair. You will be reassured to know that your dentist has been diligently updating their office policies, procedures and even office layout in order to welcome you back safely! Keep reading below for more details on why it is safe to visit your dentist in Virginia Beach.
Your Dentist's Office Is Always Clean
When thinking about whether you feel comfortable making a trip to the dentist, do not forget that dental practices are typically among the cleanest public spaces around! Your dentist in Virginia Beach already follows strict infection control guidelines from the American Dental Association (ADA), the Centers for Disease Control and Prevention (CDC) and the Occupational Safety and Health Administration (OSHA). These guidelines are designed to ensure every dental practice is a sterile and clean environment that is safe for performing dental procedures.
Additional Dental Safety Protocols
In addition to following the strict guidelines mentioned above, many dentists are putting into place additional dental safety protocols. Here are just a few of the ways your dentist in Virginia Beach may be going the extra mile to ensure your safety:
Patient Pre-Screening – Upon arrival, each patient will have their temperature taken and will be asked to complete a brief screening questionnaire. Any patient with an elevated temperature or exhibiting symptoms of COVID-19 will need to reschedule their dental appointment.
Redesigned Waiting Room – Magazines, water coolers and other items that are difficult to properly clean and disinfect will be removed from waiting rooms. This may make waiting for your appointment a bit less exciting, but it is for your safety!  
Sequenced Scheduling – Appointments will be managed to reduce waiting times and to decrease the number of patients in the reception area at any one time. In this way, it will be easier for patients to practice social distancing.
Why Dental Checkups Are Important
Finally, it is important to remember that the mouth acts as the gateway to the body. Maintaining healthy teeth and gums contributes to a healthy body and strong immune system – something that is more important now than ever. The American Dental Association recommends people visit their dentist twice a year for a professional cleaning and dental exam. So, if it has been awhile since your last check up, do not wait to call your dentist in Virginia Beach.
You cannot put oral care or health care on pause – especially during a health crisis. Talk to your dentist about what specific measures he or she is taking to welcome you back safely.
About the Author
Dr. Sarah Esparza has always prioritized cleanliness and patient safety at her Virginia Beach private practice. That is why she recently implemented seven new dental safety protocols at Esparza Family Dentistry in light of COVID-19. To learn more about what Dr. Esparza and her team are doing to keep patients safe and healthy, visit the Esparza Family Dentistry website or call 757-499-4707.