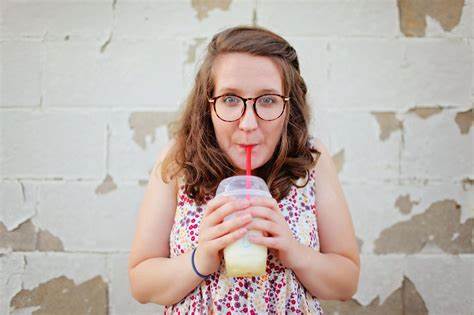 In a world where style meets sipping and convenience takes the lead, straws have emerged as charming companions, elevating ordinary drinks to extraordinary experiences. From the refreshing kick of iced coffee to the soothing embrace of a rich glass of red wine, everyday beverages offer a flavorful escape. Yet, amidst these delightful moments, our smiles often bear the brunt of their consequences. While the taste is exquisite, the toll on our teeth can be worrisome. The good news is that you can enjoy your drinks and safeguard your smile by opting for a straw. Explore the benefits of straw use in preserving your radiant grin.
How Your Favorite Drinks Can Harm Your Beam
Our teeth's health can be seriously jeopardized by various beverages, setting the stage for cavity development. Sugar content and acidity, prevalent in many popular drinks, are the main culprits. When sugary beverages like sodas, fruit juices, or energy drinks are consumed, the sugar interacts with mouth bacteria, generating acids that assault the enamel – the protective outer layer of teeth.
With time, these acid assaults weaken the enamel, creating an environment conducive to harmful bacteria growth, culminating in cavity formation. Moreover, acidic beverages such as citrus juices, sports drinks, or carbonated sodas can directly erode enamel, heightening teeth's susceptibility to decay.
Why Straws are Better for Your Teeth
Opting to drink through a straw serves as a clever approach to reduce the direct interaction between sugary or acidic beverages and your teeth. This limited exposure minimizes the chances for harmful bacteria to feast on sugars, creating damaging acids that erode your teeth's protective enamel. As a result, the risk of cavity formation is substantially lowered, enabling you to relish your favorite drinks without jeopardizing your dental health.
Using a straw is a wise investment in the future of your smile. By doing so, you can minimize the impact of sugary and acidic drinks on your teeth, reducing the risk of cavities and preserving your dental health!
About the Practice
Step confidently into the new year with a radiant smile, courtesy of Esparza Family Dentistry in Virginia Beach. Their unwavering commitment to optimal oral health equips patients with essential tools and treatments. From comprehensive checkups to thorough cleanings, their skilled team detects and addresses oral health issues early. Whether you seek a brighter smile or enhanced overall oral health, Esparza Family Dentistry is dedicated to turning your goals into reality. To explore their services or schedule an appointment in Virginia Beach, contact Esparza Family Dentistry at (757) 499-4707 or visit their website.