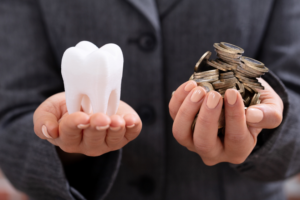 If you've paid into an HSA but haven't visited your dentist because you're worried about the cost, there's nothing to fear. Dental insurance is confusing, especially if you have an HSA because it works a bit differently than your typical PPO plan. Don't waste your monthly investment because you're not sure how your benefits work. Here's which treatments are eligible HSA expenses to invest in a healthy smile.
What is an HSA Plan?
HSA is an abbreviation for "health savings account," which differs from the options included in a PPO or HMO. You can open an HSA eligible health plan to use the tax-deductible funds for certain medical costs, including dental services. It's an additional savings plan from your basic coverage. As a result, your health plan's monthly premiums don't get added to your HSA.
Unlike a PPO plan, HSA doesn't involve any co-pays before reaching your deductible since you use the tax-advantage funds to pay for your dental expenses. If you don't have another dental insurance plan, you can use your HSA to benefit from the services your teeth and gums need to stay healthy. When combined with an in-office dental savings plan, you can enjoy significant discounts for high-quality dentistry.
Unlike a traditional dental policy, HSA plans don't expire. They can carry over from year to year, but you don't want to wait for a dental emergency to use the funds. You can use your savings account to keep your teeth and gums healthy to reduce your long-term dental expenses.
What Services are HSA Eligible Expenses?
Besides brushing and flossing, the American Dental Association also recommends a cleaning and checkup at least twice a year. Your HSA covers the expenses for standard preventive services; however, they may have a co-payment.
Every plan differs, but many common services are HSA-qualified treatments, including:
Fillings: A filling is used to treat a cavity to preserve the health and integrity of a tooth.
Root Canals: The inner layer of an infected tooth is removed and filled using a protective material to save it from extraction.
Extractions: Although dentists always strive to preserve natural teeth, there are times an extraction is necessary.
Crowns: A custom-made cap covers the entire surface of a tooth above the gum line to restore its health, function, and appearance.
Dentures: Full and partial dentures are covered under your HSA. You can also use the funds for cleaning supplies and sealants.
Bonding: A composite resin can fix minor chips and cracks to rehabilitate a damaged tooth.
If you're ready to invest in the healthy smile you deserve, schedule an appointment with your dentist today. They'll help you maximize your benefits to keep your oral health goals within your budget.
About Dr. Sarah Esparza
Dr. Esparza earned her dental degree from the University of Maryland Dental School. She is a member of various professional organizations, including the American Dental Association. Dr. Esparza provides comprehensive dentistry at affordable rates. If it's time for your next cleaning and checkup, contact our office today for an appointment.