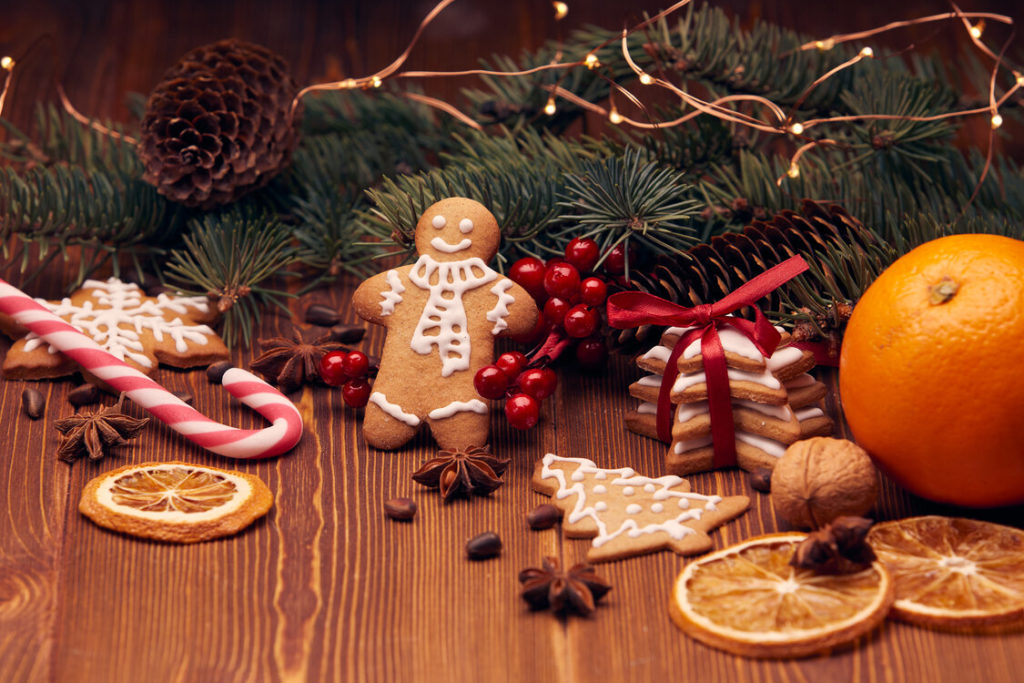 Foods like apple pie, decorative sugar cookies, and rolls are common parts of the holiday buffet. Though these treats may be tasty, the harm they can do to your oral health may not be worth the trouble. Read on to learn about five holiday foods and drinks that can damage your oral health as well as ideas for what you can have instead.
#1: Eggnog
Eggnog may be a holiday staple for many, but it contains a ton of sugar. One serving of traditional eggnog contains roughly 20 grams of sugar, which is over half of the daily recommended amount for the recommended amount of 37.5 grams for men and nearly as much as the recommended amount of 25 grams for women. If the eggnog contains alcohol, this can dry out your mouth. The acidity from the liquor can also mean bad news for your tooth enamel. Drink eggnog or other alcoholic beverages in moderation, or consider switching to something sugar-free like a gin and tonic.
#2: Candy
Do you know why candy canes, butterscotch, and other hard holiday candies taste so good? It's because they're made almost entirely of sugar! They're also sticky, which means they are difficult to wash away from your teeth. Additionally, the high fructose corn syrup in these candies pulls minerals from the teeth, which makes them weaker and more susceptible to damage and decay. Eat softer, sugar-free candies that are easy to wash away like peppermint patties and peanut butter cups instead.
#3: Stuffing
Stuffing, rolls, and other bread products are made up of carbs. These carbs break down into sugar, which means they feed harmful oral bacteria in the same way. Opt for sides like roasted veggies to avoid exposing your teeth to an acid attack.
#4: Baked Goods
Baked goods are full of sugar and carbs, so they are definitely not a good choice for your oral health. If you do decide to indulge in some Christmas cookies, make sure not to eat too many. Follow up with a glass of water to wash away leftover food particles and bacteria.
#5: Dried Fruit
The stickiness of dried fruit paired with its high sugar content means that prolonged exposure to your teeth can do a lot of damage. Eat fresh fruit and veggies whenever possible, especially carrots, apples, and similar foods that can increase saliva production.
With the above tips, you can maintain a healthy smile throughout the season. Cutting back on the cookies may be difficult at first, but your smile will surely thank you for it!
About the Practice
The holidays are fun, but ruing your smile isn't. That's where Esparza Family Dentistry comes in. They offer exceptional dental health services to Virginia Beach patients of all ages and aim to help you learn to take better care of your smile. They can also offer you tips on how to cut back and avoid the temptation of unhealthy holiday foods. Are you ready to set up an appointment or have more questions about how to protect your oral health this holiday season? If so, call Esparza Family Dentistry at (757) 499-4707 or visit their website to get started.