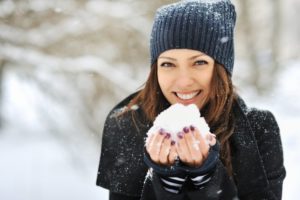 The holiday season is here, and with it comes a wave of yummy treats and sweets. Whether you're at home, work, a friend's house, or out and about, it seems like during this time of year, treats are around every corner. It's easy to start slacking on your oral health during this season of sugar, but it's also the most important time of year to take care of your teeth! Keep reading to discover some healthy holiday habits you can use to keep your smile in tip-top shape from your dentist in Virginia Beach.
Balance Sweets with Mouth-Healthy Eats
Holiday sweets are okay to indulge in every now and then, but you should balance them out with teeth-healthy foods. Avoid sugar cookies, popcorn, candy apples, and eggnog. Instead, you can eat peppermint, nuts, cheeses, and gingerbread. These holiday snacks are delicious and good for your oral health.
Don't Break Your Routine
With all of the season's festivities, it's easy to let your regular brushing and flossing become not so regular. The longer sugars and starches (found in a lot of foods around the holidays) stay in contact with your teeth, the more risk you have for cavities and tooth decay. That's why it's important to stay on top of your brushing and flossing routine, especially this time of year.
Be sure to brush your teeth twice a day and floss once a day to remove cavity-causing plaque and bacteria from your mouth. You can also add mouthwash to your routine for an extra layer of protection for your teeth.
Be Prepared for Travel
Traveling is almost unavoidable during the holiday season, which can really disrupt your oral health routine. To take care of your mouth while on-the-go, pack a travel-sized toothbrush, toothpaste, and dental floss. That way, no matter where you are you can take care of your teeth and gums. It's especially important to brush and floss after eating sugary foods.
Drink Water
This time of year also brings yummy seasonal beverages like hot cocoa and pumpkin spice coffee, which both contain a lot of sugars and fats. Balance these beverages out by drinking water routinely. Most tap water contains fluoride, which is a natural cavity-fighting mineral that is great for your teeth. Water also helps to wash away plaque and bacteria that stick around in the mouth.
Use these healthy holiday habits to protect your mouth against the season of sugar! After the holiday chaos has settled down, be sure to get in to see your dentist for a checkup and cleaning to clean away any holiday debris that your brushing and flossing couldn't reach.
About the Dentist
Dr. Sarah Esparza takes pride in providing high-quality care for her patients. She believes in patient education, which is why she wants you to know these useful tips for the upcoming holiday season. She currently runs her own practice, and she can be contacted through her website or by phone at (757) 499-4707 for any questions you may have.