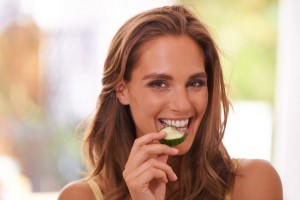 Your smile is one of your greatest assets because it's one of the first features people notice about you and it can have a huge impact on your confidence. A beautiful smile has the power to take you to the next level in your relationships and career. If you've though about changing or enhancing the appearance of your teeth, the good news is that there are many options for different types of cosmetic dentistry that can greatly improve your look. Dr. Sarah Esparza is your premiere cosmetic dentist in VA beach, and she says: "It's time to enhance your smile!"
Teeth Whitening
One of the quickest ways to enhance your look and improve your smile is to whiten your teeth. Believe it or not, it can take years off of your appearance! At Esparza Family Dentistry we offer a convenient take-home whitening system that allows you to whiten in the comfort and privacy of your home, and update your smile whenever you like.
Porcelain Veneers
Ideal for repairing small fractures, chipping, wear and discoloration, porcelain veneers can be used to repair one tooth, or an entire smile. Best described as a thin layer of porcelain, veneers are custom designed by your dentist to fit over your natural tooth structure. Bonding directly to your tooth improves its strength and function. Veneers will also retain their shade much better and longer than your natural teeth, giving you the added benefit of a whiter, brighter smile.
Dental Implants
For patients living with one or more missing teeth dental implants are a great solution. Mimicking your natural tooth, a dental implant replaces both your root and your tooth, which protects the integrity of your remaining teeth and jawbone. A dental implant is reliable, safe and durable, and with proper home care and regular dental check ups, it can potentially last for many years, and even a lifetime in some cases.
Dental implants can also be used to support full dentures, partials and dental bridges, which are great options for replacing multiple teeth or a full arch of missing teeth. In fact, dental implants are offering denture wearers a more secure and stable fit than they've ever had before. With dental implants, there is no movement or slippage of your denture when you talk or eat.
At Esparza Family Dentistry, our highly skilled doctors have been providing high quality care in warm and friendly environment for decades! If you've considered changing the appearance of your smile, look no further than our team. We'll start with a consultation to make sure we're on the same page with you about your smile, and our doctors will recommend the right treatment options for your needs and help you select the right treatment plan for your lifestyle and budget. Contact our office today to schedule your next appointment.