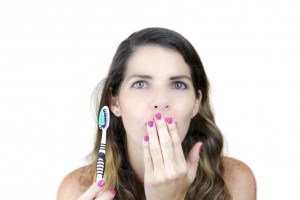 Bad breath is a common problem we all have from time to time depending on what we eat. However, if you have bad breath more often than not, you may be part of the 25 percent of people who have halitosis. While halitosis can be caused from various factors, the leading cause of the odor is due to poor oral hygiene. With bad breath leading to embarrassment and anxiety, we have several secrets to help you freshen your breath. As your family dentist in Virginia Beach, we will help you prevent the odor so you can speak confidently.

What Causes Bad Breath?
Bad breath is estimated to affect roughly one out of every four people. The most common cause of the condition is due to bad oral hygiene habits. When proper oral hygiene is not maintained, food particles are left in the mouth. As the food particles breakdown, bacteria produce a sulfur compound, which leads to the odor. In addition, prolonged poor oral hygiene can lead to tooth decay and gum disease, which will also increase the occurrence of bad breath.
Next to poor oral hygiene, bad breath is also caused from certain lifestyle habits, such as smoking and alcohol use. In some cases, post nasal drip, dry mouth, bowel obstructions, and other medical conditions can cause the odor to develop. Some medications may even lead to the odor.
No matter the cause, there are various steps you can take to help prevent bad breath.
How Can I Prevent Bad Breath?
With the leading cause of bad breath due to poor oral hygiene, it is essential you practice proper oral hygiene habits to keep bacteria levels to a minimum in the mouth. Brush your teeth twice a day using a fluoride toothpaste. You need to brush all surfaces of the teeth for at least two minutes every time you brush. You also need to floss between each tooth daily to remove trapped food particles and plaque between the teeth. If you are still having trouble with bad breath, you can use a mouth rinse to help further decrease bacteria levels.
In addition to your home oral hygiene, you need to visit the dentist twice a year for regular checkups and cleanings. We will remove plaque, bacteria, and odor-causing food particles left behind with brushing and flossing. If bad breath is a concern, we can recommend additional preventive measures to help combat the odor.
If increasing your oral hygiene does not help your bad breath, you should visit your physician to ensure there is no underlying medical condition causing the odor.
Treating Bad Breath
At Esparza Family Dentistry, we understand just how difficult it can be to live with frequent bad breath. If you are tired of living with the embarrassment of the odor, increase your home oral hygiene habits and make changes to your diet and lifestyle. In addition, contact our office to schedule a consultation. We will help to find the cause of the odor for the appropriate intervention to stop the odor.