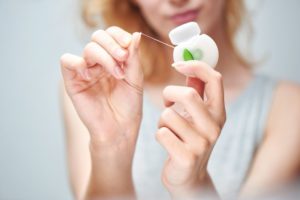 Lots of adults hate flossing. Maybe you find it uncomfortable, tedious, or time-consuming. And since you've gotten away for years without flossing regularly, you might not have any intention of adopting the habit. But is that really a smart idea? No. Flossing every day is of vital importance to your oral health. Your dentist in Virginia Beach explains why.
Brushing Doesn't Cover Everything
When you brush your teeth, you clean away bacteria, plaque, and food particles that may lead to cavities and bad breath. The fluoride in the toothpaste even helps to remineralize your enamel and keep your smile nice and strong. However, brushing isn't a one-step route to a healthy smile
The bristles of your brush can't reach the extremely tight spaces between your teeth. In fact, brushing may miss up to 40 percent of the surface area of your teeth! As bacteria accumulates and forms plaque in those spaces, your risk of developing cavities and gingivitis increases.
What About the Naysayers?
There are some folks out there who claim that flossing isn't important; this opinion spread like wildfire after an Associated Press article claimed that the medical benefits of flossing were unproven. But let's take a moment to talk about the facts.
It's absolutely true that flossing removes plaque between the teeth, and plaque contains countless types of bacteria that can harm your chompers and lead to gum disease. The claim that flossing doesn't help may arise from the fact that not everyone who flosses uses the proper technique. One study from 2006 found that children who had their teeth professionally flossed five days a week had a 40 percent decreased risk of developing cavities, while those who flossed at home didn't experience any decrease in their risk of tooth decay.
How to Floss Properly
If you ever have questions about how to floss, please ask your dentist or dental hygienist for help. They'll be happy to share their knowledge with you and help you to become an expert flosser. In the meantime, follow these guidelines:
Use string floss; it is generally more effective than water flossers or dental pickers.
Find a floss that is thin enough to fit comfortably between your teeth.
Start with about 18 inches of floss, and wrap most of it it around your middle fingers.
Holding the floss taught between your hands, gently move it up and down between your teeth.
Never snap the floss into the spaces between your teeth; you don't want to accidentally cut or bruise your gums.
As you move from tooth to tooth, roll the floss so you're always using a clean section of it.
Floss at least once a day, usually at night.
Don't let anyone tell you that flossing isn't important; this habit could save your smile from decay and gum disease!
About the Dentist
Dr. Sarah Esparza is passionate about helping her patients maintain healthy mouths, which is why she recommends flossing as part of an excellent oral hygiene routine. If you have questions about how to prevent dental problems, or you think it's time for your next checkup, please contact us at 757-499-4707.