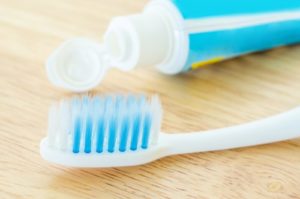 Everyone loves their gadgets, whether it is a wearable fitness tracker, a smartphone that can do everything and then some, or a cool TV. The bathroom isn't exempt from our technological love affair. You're probably always seeing advertisements for the latest and greatest toothbrushes, but are these fancy products worth the price? Will your pearly whites benefit more from an electric toothbrush than a manual one? Your dentist in Virginia Beach is here to help you decide which type of tooth cleaning tool is right for your mouth.
Which Is More Effective?
The first thing you should consider when you're choosing a toothbrush is how it will affect your oral health. We're happy to say that both manual and electric toothbrushes can do a fantastic job of cleaning your teeth. They can prevent cavities, vanquish bacteria, and give your smile that dazzling gleam!
However, some people find that they have a cleaner mouth if they switch to an electric brush. For example, people with mobility issues may have an easier time using a powered toothbrush. Young children might also benefit more from an electric bursh because they're easier to use. Quite a few adults love electric brushes just because they feel amazing in the mouth.
One study found that 80 percent of people who switched to an electric toothbrush experienced better oral health as a result. However, this may have more to do with how people use their toothbrushes than it has to do with the brushes themselves.
Which Presents a Better Value?
As you're researching toothbrushes, you'll find that electric toothbrushes cost quite a bit more than their manual counterparts. If you buy a high-end brush, you could even end up paying hundreds of dollars. However, many people believe that the financial sacrifice is worth it. After all, electric brushes can deliver between 6,000 and 30,000 strokes per minute — that's a lot of cleaning power!
If you decide to take the leap and go electric, be sure to choose a brush that has good consumer reviews and endorsements from dental professionals. You might even give your dentist in Virginia beach a call to ask for a personalized recommendation.
What if I Travel a Lot?
There is no doubt that manual toothbrushes are easier to travel with than electric ones. Their small size makes them easier to pack, and you never have to worry about finding a place to plug them in so you can charge them. If you buy an electric toothbrush, you might want to keep a manual one on hand for those times when you're on the go.
Ultimately, the type of toothbrush that is right for you depends on your habits and your circumstances. Pick a brush you love so you can enjoy your daily oral hygiene routine!
About the Dentist
Dr. Sarah Esparza is your talented, caring dentist in Virginia Beach. She provides preventive and restorative care to help her patients have healthy smiles. If you have questions about how best to care for your oral health, you can contact our office at 757-499-4707.