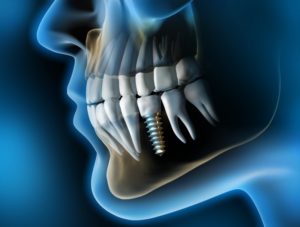 You might have taken your teeth for granted before you lost them. However, when you joined the ranks of individuals who don't have a complete set of pearly whites, you discovered that those gaps in your smile are more than just an inconvenience. Missing teeth can downgrade your entire quality of life, and they can even pose a threat to your oral and overall health. Replacing them is important! When you're talking with your dentist about how to regain a complete set of chompers, be sure to discuss dental implants in Virginia Beach. You might just find out that they're the perfect solution for you!
What Are Dental Implants?
Dental implants are small posts, usually made of titanium, that an oral surgeon places in your jawbone. Over a period of a couple of months, your body forms a bond with the implants, allowing them to act like natural tooth roots. Eventually, your dentist will attach your new artificial teeth to the implants.
The fact that implants bond with your jawbone is significant for a few big reasons:
The implants stimulate your body to maintain your jawbone, thereby preventing the bone loss that often comes with missing teeth. This also helps your face to maintain its lovely shape.
Implants are extremely sturdy. They provide you with a strong bite force so you'll be able to enjoy all the crunchy, hearty, sticky foods that you love without worrying about damaging your new teeth.
What Are Some Other Benefits of Dental Implants?
You can look forward to some more significant benefits from your new, implant-supported teeth:
Implants can last for a lifetime. You won't have to replace them every few years like you would with traditional dentures.
A natural appearance. After your new teeth are in place, no one will have to know that they aren't your natural pearly whites unless you feel the need to brag about your awesome implants.
Easy maintenance. Oral hygiene is extremely important when you have dental implants, but that doesn't mean you'll have to put a ton of time or effort into caring for them and cleaning them.
Protection for your existing teeth. Implants can prevent your natural teeth from drifting out of place.
What's the Catch?
Implants are often the best way to replace missing teeth, but they aren't right for everybody. That's why your dentist will perform an in-depth consultation with you before you commit to the procedure. Your oral and overall health come into play in determining if you're a good candidate for implants.
Also, your dentist will talk to you about the potential risks associated with implants. While the vast majority of cases are successful, there is always a chance that complications will arise in the form of an infection.
Dental implants in Virginia Beach can restore your smile and improve your quality of life. Why not ask your dentist if they're right for you?
About the Dentist
Dr. Sarah Esparza is your friendly, caring dentist in Virginia Beach. Your oral health is important to her, which is why she will be happy to talk to you about dental implants. If you want to learn more about how to replace your missing teeth, please contact us at 757-499-4707.