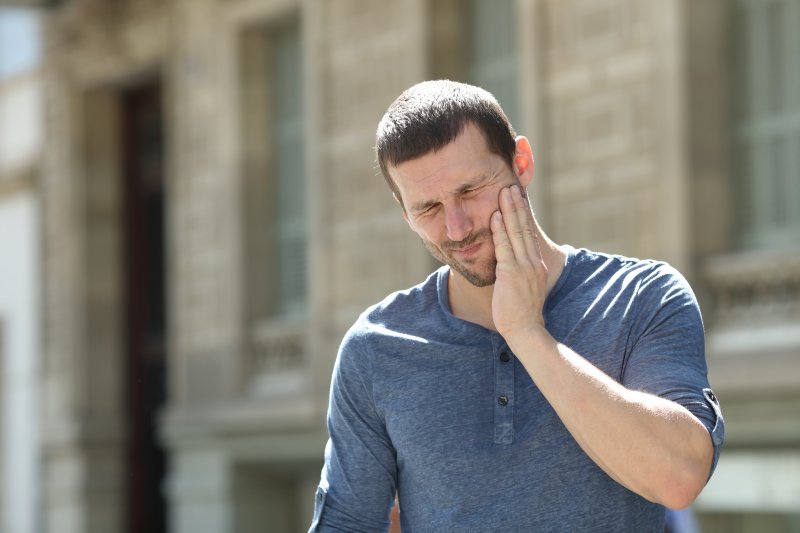 There's nothing like a bad headache to sour your mood. When the pain starts rolling in, it can be unrelenting and overwhelming. Some headaches are minor and fleeting; but the ones caused by TMJ disorder are quite burdensome. Talking, chewing, and even yawning can become excruciating, and relief cannot come quickly enough—but what possible relief is there when the cause is untreated TMJ disorder? TMJ pain can be a serious issue, so understanding the danger and receiving the proper care is crucial.
What is TMJ Disorder?
TMJ disorder is characterized by severe pain, temporary or chronic, affecting one or both sides of the jaw. The Temporomandibular Joint (TMJ), which is responsible for connecting your jaw to the skull and allowing you to move it, becomes irritated and inflamed. The pain is further aggravated by normal jaw movement and motion.
The exact cause of TMJ disorder is still unknown. However, there are many factors believed to play a role, including jaw injury or trauma, a misaligned bite, arthritis, and bruxism (the clenching and grinding of the jaws).
Can TMJ Disorder Be Treated?
TMJ disorder can be treated with custom oral appliances. For instance, patients with bruxism are instructed to wear a night guard, which is designed to prevent your jaw from clenching and grinding when you're sleeping, lessening the severity of painful symptoms. In other cases, oral appliances are used to correct a patient's bite or reduce the amount of stress on the jaw. Sometimes, the size and shape of a few teeth can also be slightly adjusted to align the bite and provide relief for the TMJ.
The Risks of Untreated TMJ Disorder
Although TMJ disorder is not life-threatening, the painful symptoms can negatively affect your life over time. Untreated pain affects everything; your sleep, eating habits, posture, mood, and even the amount of oxygen that you breathe in. Some of the major risks associated with untreated TMJ disorder include:
Chronic jaw pain
Recurring headaches
Premature wear and tear of the teeth
Joint damage and inflammation
The jaw becoming stuck while opening or closing
Tinnitus
Developing insomnia or an airway sleep disorder
Asymmetrical muscle growth
Discomfort when eating
All these issues are painful, uncomfortable, and undesirable, and there is no reason to submit yourself to any of them. It's in your best interest to see your dentist when you have persistent pain or tenderness in your jaw, or if you're unable to open it.
If you're sick and tired of the headaches and sour moods associated with untreated TMJ disorder, it's time to do something about it.
About the Author
Dr. Sarah Esparza received her DDS from the University of Maryland Dental School in 1999. She also served in the US Air Force as a general dentist and has been stationed all over the world. Her practice proudly aids families in the Virginia Beach area and offers many services including preventive, cosmetic, and restorative dentistry, as well as TMJ/bruxism therapy and emergency dentistry. If you or a loved one have questions about TMJ Disorder or would like to contact Dr. Esparza, she can be reached via her website or (757) 499-4707.