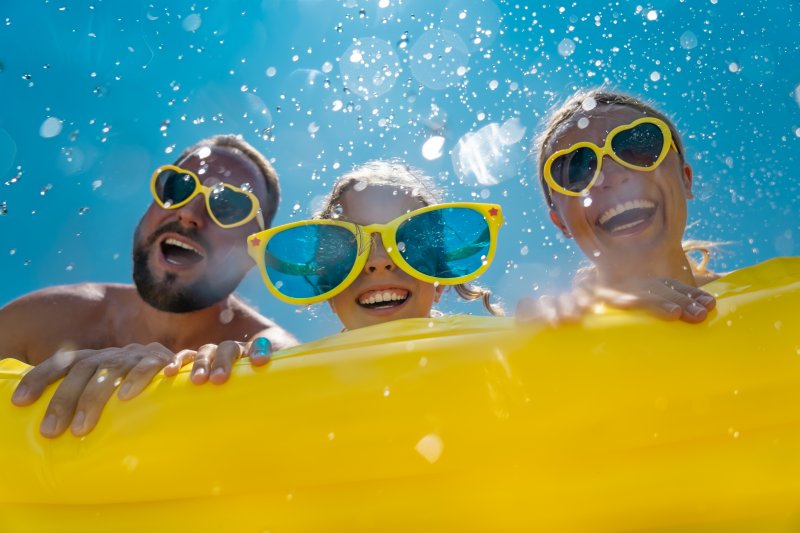 A nice, refreshing swim is the perfect way to cool off during those hot summer months. However, frequent exposure to pool water can have negative effects on your teeth unless you take the proper precautions. Follow a few simple tips to ensure safe summer swimming and protect your smile.
The Effects of Chlorine on Teeth
If you rarely swim in a chlorinated pool, you probably don't have to be too concerned about the effects of chlorine on your teeth. However, if you swim in chlorinated water daily, you should look into taking precautions that preserve your dental health.
Prolonged exposure to improperly chlorinated pool water can cause enamel erosion if the pH balance is too low and the water is over-chlorinated.
Some symptoms of enamel erosion are overall dental discomfort, brittle teeth, sensitive teeth, discolored or stained teeth, or teeth that are transparent at the edges. However, there are still ways to enjoy your summer swim and avoid dental damage.
How to Protect Your Smile
Here are some tips to prevent dental damage while swimming:
Moderation is key. Limit how often you are swimming in chlorinated pools to less than six hours a week.
Close your mouth. Keep your mouth closed as much as possible while swimming.
Rinse your mouth. After swimming, rinse your mouth with tap water.
Use fluoride. Add fluoride to your dental routine to keep your enamel strong.
Visit your dentist. Stay up-to-date with regular dental visits and cleanings.
You can also test the pH balance of your local pool with test strips. According to the CDC, it is recommended that the pH levels of treated water remain in the threshold between 7.2 and 7.8. You could also hire a professional to maintain your backyard pool. Pool water that is too acidic will erode pool linings, railings, and ladders, so keeping an eye out for those details can help you reduce your risk for enamel erosion.
If you have additional concerns about swimming in chlorinated water, you can discuss them with your dentist during your next visit. You can come up with a plan together to keep both your summer plans and tooth enamel intact.
About the Author
Dr. Sarah Esparza of Esparza Family Dentistry offers top-notch dental care and is committed to having a full understanding of your dental needs. Her priority is your comfort and helping you make informed choices about your dental health. If you want to learn more about how you can protect your teeth from chlorine, you can contact Dr. Esparza through her website or by phone at (757) 499-4707 to schedule your summer checkup.