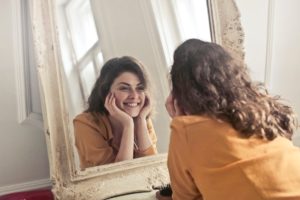 White teeth are attributed to youth, health, and confidence, but not everyone has a bright smile naturally. Not to mention, years of drinking coffee, smoking, or poor brushing habits can leave stains. OTC whitening products appear as a convenient, affordable solution to combat discoloration, but they aren't as safe or effective as you might believe. Here are the facts behind 4 common myths that may make you think twice before using an OTC whitening product.
Myth #1: Whitening Products Are Safe for Everyone
Fact: Not everyone is a candidate for teeth whitening.
Whitening products are marketed as safe for the general public, but only people with good oral health should use them. Whether a professional system or OTC method, whitening ingredients can aggravate or worsen untreated dental problems, like cavities or gum disease.
It's best to schedule a cleaning and checkup before using any whitening treatments to ensure your teeth and gums are healthy.
Myth #2: Teeth Whitening Works On All Stains
Fact: Many factors cause tooth discoloration.
Stains can be caused by many factors, like genetics, diet, medications, or age. Not all types of stains respond to whitening treatments. Visiting a professional for teeth whitening will ensure you aren't throwing money down the drain on a method that won't work.
A cosmetic dentist will determine the source of your discoloration to create a personalized plan to get your teeth significantly whiter, like teeth whitening, bonding, or veneers.
Myth #3: OTC Products Provide the Same Results as In-Office Treatments
Fact: OTC whitening products don't contain professional-grade ingredients.
Despite the amazing results OTC solutions promise to deliver, they won't provide any drastic or lasting results. They don't contain professional-strength whitening agents, so any improvement will be minimal. The only way to achieve the noticeable results you desire is with the help of a professional.
Your dentist will use a highly concentrated whitening agent to deeply penetrate the enamel to resolve stains. Your teeth can get up to 8 shades whiter with results that can last for many months or years with the right aftercare.
Myth #4: OTC Products Don't Damage Enamel
Fact: Overusing whitening products can cause permanent damage.
When used according to the manufacturer's guidelines, OTC products shouldn't harm your enamel. However, people often overuse them to reach their desired results. Overusing whitening kits can damage your enamel.
A cosmetic dentist can tailor your whitening treatment to meet your needs to reach your goals safely. They'll also recommend spacing out your treatments to protect your enamel.
Although OTC whitening systems are widely available, invest in safe and proven results. Your cosmetic dentist will turn back the clock to reveal bright, beautiful teeth.
About Dr. Sarah Esparza
Dr. Esparza earned her dental degree from the University of Maryland Dental School and has regularly pursued continuing education in many specialties, like cosmetic dentistry. She strives to help each patient achieve their best smile. Request an appointment through our website or call (757) 600-6033.