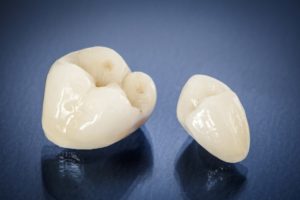 No one ever expects a tooth to break or crack, but it's a common dental emergency. Whether from trauma, decay, or another issue, your tooth needs to be treated right away. If the break doesn't appear significant or you aren't in any pain, you might be tempted to wait to have your tooth treated. Although no one has time in their day for an unplanned trip to the dentist, delaying the care you need may cost you your tooth. Instead, it's best to see your dentist right away for a dental crown in Virginia Beach.
What is a Dental Crown?
A dental crown is a custom-made cap bonded over the entire surface of a tooth that's visible above the gum line. This makes them very versatile to prevent and treat several issues, like a broken tooth. Although they are the single most common restorative procedure, they are only recommended when there aren't any other viable options to save a tooth.
Your dentist may recommend a crown to add a layer of protection to a weakened tooth or to restore its health, such as from a large cavity or break. Besides the restorative benefits of a crown, they also have cosmetic advantages as well. While they were made of metal in the past, they now match the appearance of your natural tooth using all-ceramic material.
Why Do I Need to Get a Dental Crown?
Minor fractures or breaks can often be repaired with a cosmetic bonding; however, a large break may require a dental crown. You'll need to see your dentist quickly to prevent any additional damage from occurring. The longer you wait to have your tooth treated, the more it's exposed to harmful bacteria. Over time, this can lead to decay or an infection. Not to mention, your tooth will be weakened, increasing the risk of a more significant break.
If you wait too long to see your dentist, a crown may no longer be enough to save your tooth. Instead, you may need a root canal or even an extraction. It's best to contact your dentist right away for an appointment. While you wait, avoid chewing with the tooth and keep it clean. You can use an over-the-counter pain reliever and cold compresses to manage any pain or swelling.
Save Your Smile Today!
No one expects a broken tooth to interrupt their plans for the day, but make the time to visit your dentist. They provide the prompt care you need to restore the health, function, and appearance of your tooth.
About Dr. Sarah Esparza
Dr. Sarah Esparza has been practicing dentistry for over 2 decades. Besides earning her dental degree, she regularly continues her education to remain well-versed in the latest treatments. She offers the solutions you need to maintain a healthy smile. If you need a dental crown, you can enjoy an all-ceramic restoration from Esparza Family Dentistry. Contact our office today for an appointment.