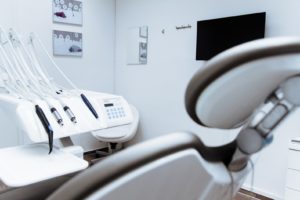 If you've lost all your teeth, dentures are a great way to rebuild a beautiful, functional smile. Although you'll no longer have to worry about cavities, that doesn't mean you can throw out your toothbrush or stop seeing your dentist. Tooth decay isn't the only risk to your oral health. Despite not having any real teeth, you can still develop various issues that can affect your wellness and the lifespan of your denture. Besides caring for your new set of teeth at home, dental checkups with dentures are just as important, and here's why. 
Keep Your Mouth and Denture Clean
Your mouth is a breeding ground for bacteria because it is dark and moist. You may not have to worry about cavity-causing bacteria, but you'll still be at risk of gum disease. Although it's preventable, 50% of adults have the infection. Not only can it wreak havoc on your smile, but it's also linked to many health concerns, including heart disease, Alzheimer's disease, and respiratory infections. Routine dental appointments allow your dentist to monitor your gum health to treat any redness or inflammation before it turns into a bigger problem.
Monitor for Oral Cancer
You don't have to smoke or drink alcohol to be at risk of oral cancer. It can affect anyone. Despite the latest medical advancements, 1 person per hour dies from oral cancer. The mortality rate is attributed to late detection. Dentists can detect 80% of oral cancer cases early through regular preventive appointments.
Adjust Your Dentures
Your hard and soft tissues will change as you age. Your denture won't adapt to the movements, which can affect your bite. Your dentures may slip or cause irritation that can make it difficult to maintain a nutritious diet. If the problem isn't addressed, you can be at risk of nutritional deficiencies. Your dentist will check the fit of your dentures and make necessary adjustments during your dental checkup. They'll ensure your replacement teeth continue to fit snugly and comfortably to support a balanced diet.
Prolong the Lifespan of Your Dentures
Dentures last for 5 to 7 years before needing to be replaced; however, various factors affect their lifespan, like how well you care for them. This involves more than just brushing and soaking your dentures. Regular dental care is invaluable to protecting your investment to get the most out of your dentures before needing a replacement.
No matter the type of denture you use, commit to visiting your dentist regularly to keep your smile healthy. Your dentist will work with you to support your overall wellness while ensuring your denture lasts for years.
About Dr. Sarah Esparza
Dr. Esparza achieved her dental degree from the University of Maryland Dental School. After serving as a general dentist in the Air Force, Dr. Esparza began providing high-quality dental services to the community of Virginia Beach. If it is time for your next cleaning and checkup, don't wait. Contact our office today to schedule your appointment.