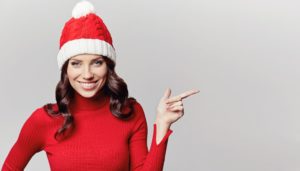 The holidays can add a few inches to your waistline, but the foods and drinks you consume can also leave a lasting mark on your dental health. You'll be surrounded by many of your favorite meals and sweet treats, which can wreak havoc on your oral health. You can enjoy the holidays and avoid bad news at the dentist by following 5 tips to protect your smile. 
1. Step Up Your Oral Hygiene Routine
You know you're supposed to brush your teeth in the morning and at night, but you'll be doing more snacking over the next few weeks. It's best to brush after every meal, instead of twice daily. Create a small oral hygiene kit with travel-sized products to make it easier to keep your smile clean, even when you're not at home. Don't forget to floss before heading to bed.
2. Limit Sugary Treats and Drinks
Resisting your sweet tooth can be difficult, especially during the holidays, but it's best to limit sugary foods and drinks. If you can't resist your sugar craving, avoid hard or sticky candy because they cling to your teeth. Instead, choose chocolate because it rinses from your teeth easier. It also won't bathe your teeth in cavity-causing sugars for too long, like when sucking on a candy cane.
3. Drink Plenty of Water
Healthcare professionals recommend drinking eight 8-ounce glasses of water daily to stay hydrated. Water isn't just important for your general health, but it also keeps your mouth moist. A dry mouth is a perfect environment for harmful bacteria to get out of control quickly. It's best to drink plenty of water to keep your mouth moist. It will also help cleanse food residue and bacteria from your teeth in between brushing and flossing.
4. Chew Sugarless Gum
Chewing gum stimulates saliva production to keep your mouth clean and moist. Chewing sugarless gum is a great way to keep your pearly whites clean when you can't get to your toothbrush after eating. You'll have minty fresh breath and a reduced risk of decay by reaching for a piece of gum.
5. Protect Your Smile from Stains
Red wine, cranberries, and other dark foods and drinks can stain your enamel. You can prevent starting the new year with discolored teeth by skipping stain-causing foods. If you can't skip having cranberry sauce with your turkey, rinse your mouth with water after.
Visit Your Dentist Before the New Year
Although the holiday season is busy, don't forget to schedule your semi-annual cleaning and checkup. You'll prevent a dental emergency from interrupting your holiday plans and have a beautiful, healthy smile you'll be proud to show off in the new year.
About Dr. Sarah Esparza
Dr. Esparza earned her dental degree from the University of Maryland Dental School and worked as a general dentist in the United States Air Force for 7 years. She regularly completes continuing education in advanced services. If you need a cleaning and checkup before the holidays, contact our office today to request an appointment.